A&P bankruptcy filing indicates likely demise.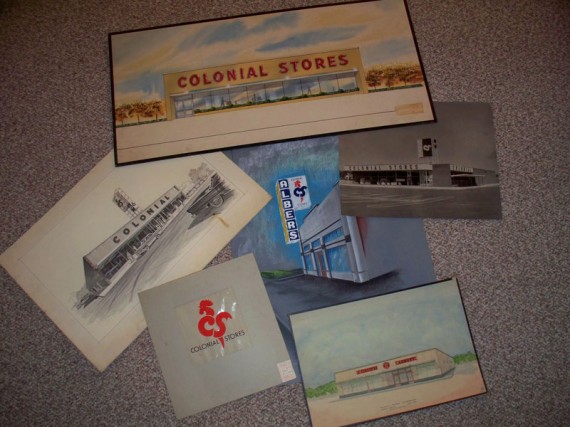 This is big.
A very observant member of an Atlanta architctural firm (who's now my hero, by the way) contacted me a few weeks ago to tell me about some materials he found while working on a client project, wondering if I might be interested. I picked the stuff up today. Turns out it came from the former headquarters of Colonial Stores and was apparently material that was simply abandoned upon the demise of the company in 1988 and had been sitting in the office ever since.
The take: twelve boxes and more than a dozen rolls of blueprints, sign plans, mechanical drawings, lease information, and other material. It seems this may be most of the records of the real estate and/or construction department of the chain. There are layouts and fixture plans dating to at least 1952, proposals for the conversion of the Albers stores in the Midwest after that chain was acquired by Colonial Stores in 1955, and lost of materials on the conversion of stores to the Big Star format in the late 1960s and early 1970s. This is incredible stuff and I am really grateful that it was saved from the dumpster and that I was able to get my hands on it. I'm just starting to go through all the boxes and I'll keep you posted.
It's amazing what you can fit inside a 2002 Buick LeSabre when you try really hard: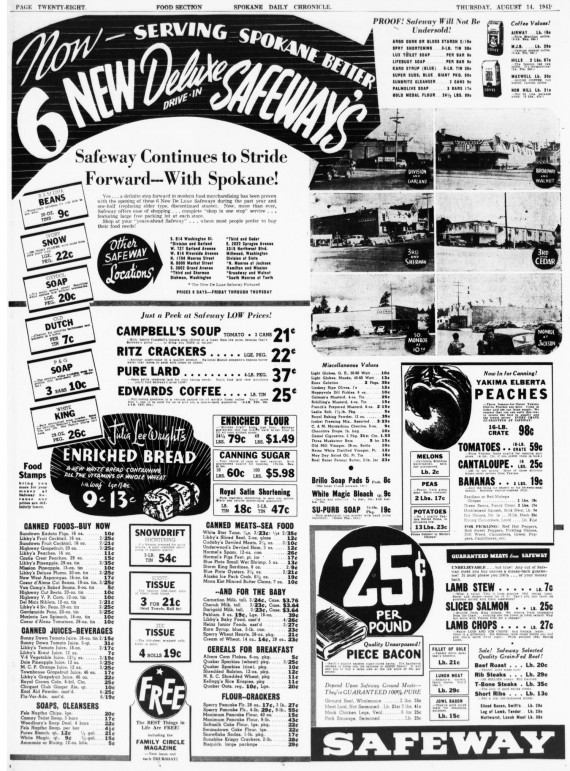 While doing research for some long-promised updates on the site, I ran across this ad from 1941 that lists six new "deluxe drive-in" Safeway stores in Spokane, Washington, along with a list of all then-extant stores in the city. It gives a great picture of Safeway's presence in one city at the time, as well as providing a glimpse into the state of the chain in general.
By 1940, Safeway had moved decisively into the "supermarket" era after a somewhat conservative start. New stores at the time averaged 6000-6500 square feet and boasted tiled meat and produce departments and employee showers. These stores were also among the first to feature parking lots as a standard amenity, usually to the side of the store and approximately the same square footage as well. Safeway had been building some stores with parking lots as early as the late 1920s, but they were far from universal. In fact, in 1940, Safeway was operating hundreds of older units in taxpayer strips or on the first floors of apartment or commercial buildings, most of which were a fraction of the size of the new supermarkets and some of which dated from the 1920s and had originally operated under any number of other brands. The Spokane stores, for example, had largely started under the Piggly Wiggly, MacMarr, or Pay'n Takit names, all of which had different points of entry into the Safeway corporate structure.

A surprising number of Safeway's class of 1941 are still standing in Spokane, including a very ornate former Pay"n Takit store like the one shown above. Here's the list:
New "Deluxe Drive-in" stores:
South Monroe at 10th (could not locate the store near this intersection)
Existing stores:
514 S. Washington St.
727 W. Garland Av.
814 W. Riverside Av.
1704 N. Monroe St.
5005 N. Market St.
3002 Grand Av.
2022 E. Sprague Av. (this is a very ornate former Pay'n Takit)
3315 Northwest Blvd.
Division at Sinto
Hamilton and Mission (interestingly enough, there's still a Safeway at this intersection, albeit not a 70-plus year old one)
Four men sat down at a segregated lunch counter in Greensboro NC and changed history. The event was commemorated today with the opening of the International Civil Rights Center & Museum in the former Woolworth store where the sit-ins began.
On the same day, eighty miles south in Charlotte, "Harris Super Markets and Teeter's Food Marts officially merged to form Harris Teeter Super Markets, Inc. There were already 15 stores in operation. The first 'Harris Teeter' store to open under the new banner was in Kannapolis, NC." (via Harris Teeter website and The Charlotte Observer).

Aside from being hilarious, this training video gives a great look at a 1985 Publix store.