The 1930s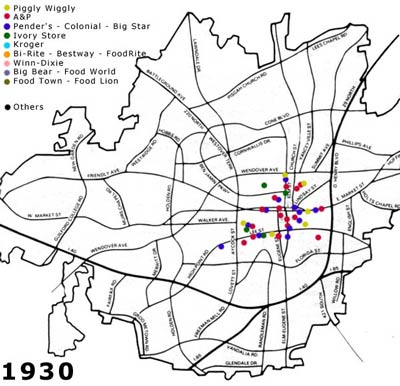 By 1930, Greensboro, with a population of 53,000, was the third largest city on the state, behind Charlotte and nearby Winston-Salem.
A&P
Greensboro's first chain grocery, a unit of the Great Atlantic and Pacific Tea Company at 326 South Elm Street, had opened in 1910. By 1930, A&P was operating twelve stores in Greensboro, seven of them downtown and five in streetcar strips and "outlying" areas such as Glenwood, College Hill, Warnersville, and the Asheboro Street neighborhood.

A&P, Asheboro Street, early 1930s.
Like most chain stores of the period, these A&P "economy stores" were full-service operations run by one or two employees, averaging less than 2000 square feet in size. Most were without any significant fresh meat or produce; locally-owned butcher shops and greengrocers were often located adjacent to the chain grocers. Many operated close to or even next door to locations of competing chains. One streetcar strip on West Market Street contained stores from three chains side by side: A&P, Ivory, and Pender's.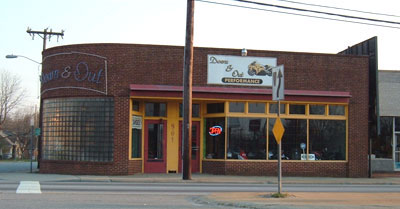 Former A&P site, 901 West Lee Street.
By 1935, A&P was operating eighteen locations in Greensboro. Most of the newer stores were in outlying areas, including one on Tate Street near Woman's College (now UNCG), and one at 2119 Walker Avenue. Also, a store had opened in the new State Street shopping district at McAdoo Heights.
Greensboro was also home to thirteen outlets of the Norfolk-based David Pender Grocery Company in 1930. The Pender's locations were geographically similar to A&P's, with perhaps a slightly smaller concentration within the dead center of downtown. Pender's store count was down to eight by 1935, although two of these were new (and presumably larger) stores.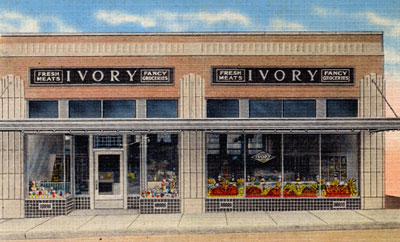 Ivory Store, 610 Walker Avenue. (Postcard view, courtesy Adam Balevic)
Six Piggly Wiggly franchise stores and four units of the locally-owned Ivory Stores also competed for Greensboro's grocery customers in the early 1930s. By 1935, there were eight Piggy Wiggly and seven Ivory stores. By 1940, however, Piggly Wiggly was down to six stores; Ivory, however, had expanded to six. A new chain, W&M Stores, had also appeared by 1935, with five locations, but it was gone by 1940.
Also new in the last 1930s were two independents which would later prove very important to Greensboro grocery retailing history. Essa's opened on Gorrell Street on the east side in 1935. And Butler's opened in the Glenwood area, adjacent to a former A&P location, in 1938. Later, these two stores would form the nucleus of the Bi-Rite co-op chain.
Again, these were all small stores with few frills and extras. But change was on the way.
The Supermarket Comes to Greensboro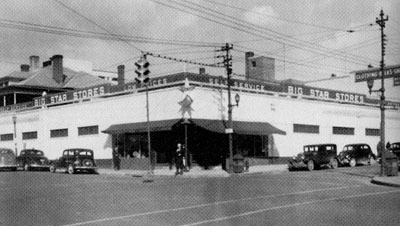 Big Star, 116 West Washington Street, circa 1937.
In the fall 1937, the Pender Grocery Company opened Greensboro's first chain supermarket, the Big Star location at the corner of Greene and Washington Streets downtown. M.O. James, meat cutter, wrapped the first package on opening day, marking the beginning of the supermarket era in Greensboro. The very same Mr. James would wrap the final package on that store's closing day twenty-five years later.
The Big Star store was Pender's reaction to the supermarket trend that had taken over American food retailing in the 1930s. Initially a phenomenon of independents, the supermarket was embraced by the chains late in the decade. The Greensboro store was reputed to be the first supermarket in the Pender chain, and apparently was initially referred to as "Pender's Yellow Front" as well as Big Star, perhaps to keep some identifier of the established chain.
Soon afterward, Pender's opened Big Star locations in High Point, Winston-Salem, and Charlotte among other cities. In some of these cities, certain smaller and older units stayed open for a time as Pender's, and later Little Star stores, but the new downtown Big Star was the chain's only branch in Greensboro by 1940.