Last Updated on 26 November 2022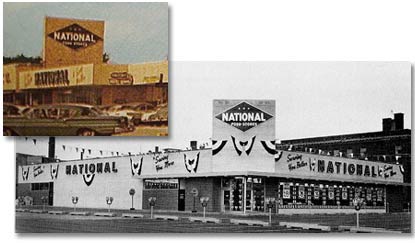 Based in Chicago, the first National Tea store opened in 1899. Number of locations peaked in 1929 at 1627. Consolidation had reduced this number to 883 by 1957. During the 1950s, National acquired numerous chains including:
C.F. Smith Stores (Michigan)
Northwest Piggly Wiggly
G.T. Smith's Market Basket
Dale Supermarkets
Food Center stores (St Louis)
Capital Stores (Baton Rouge)
Canal Villere (New Orleans)
Ashton's (Gulfport)
H.A. Smith (Memphis)
Montag's (Memphis)
Maker's (Michigan)
Illinois Valley Stores (selected locations)
Devan's (Mobile AL)
Logan's (Nashville TN)
Council Oak Stores (Minnesota)
Miller's Supermarkets (Colorado)
Standard Supermarkets (Indiana)
National itself was acquired by Loblaw Companies of Canada in 1955, and stores continued to operate under the National and Loblaw names. Stores also operated under the "Big D" and "Del Farm" banners. in 1964, the chain was operating all over the Midwest, the South, and the Great Plains.
In the 1970s, Loblaw started divesting unprofitable stores, starting with 250 Chicago, Syracuse, and California stores in 1976. Indianapolis was sold in 1982, Minneapolis in 1983, and all remaining U.S. assets by 1995. St. Louis and New Orleans were the last regions to be sold.
Loblaw's is still the largest food and drug retailer in Canada, operating stores under its own names as well as under the Zehr's, Fortino's, Your Independent, Provigo, No Frills, Shoppers Drug Mart and Superstore banners.
In This Section:
More Information:
Offsite links: