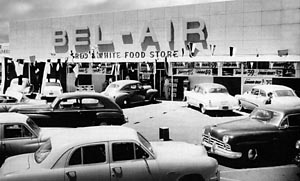 History of the chain, from Raley's/Bel-Air Website:
The legacy of Bel Air Markets is one of hard work, strong family ties and a commitment to serving the community. It began in 1916 when a young man named Gim Wong crossed the Pacific Ocean from China in search of a dream. By the 1930s, Gim, his wife Lee Shee and their children were working side by side growing produce on their 5-acre farm in the Sierra Nevada foothills and delivering it to an ever-growing group of loyal customers.

In 1955, after other successful ventures in the food industry, the Wongs decided to expand the family business by opening a supermarket – still a novel concept at that time. They built their first supermarket in Sacramento on Fruitridge Road and called it Bel Air, because, as the legend goes, they liked the way the name sounded.

When the first Bel Air Market opened, it, like the produce business before it, was a family affair. That family atmosphere and friendly, down-home attitude carved Bel Air's niche in the competitive marketplace. The Wongs' goal was to not only offer the best products possible, but to provide the best customer service possible.George Wong (pictured with his father), the third eldest son, served as president of the company for 40 years and led its expansion throughout the Sacramento area to encompass a family of stores that today reaches as far north as Yuba City and east to Cameron Park.

As new stores came on line, Bel Air introduced innovative features not usually found in grocery stores, including Chinese hot foods, fresh sushi counters, sit-down cafés, pharmacies, salad bars, banking centers, postal service stations and playcare centers offering supervised play for young children while their parents shop. And still, the caring, friendly atmosphere prevailed.

Since 1992 – the year Gim Wong's children began seeking retirement – the Bel Air family has been part of the Raley's family. The merger was far more than a marriage of convenience. Already a partner in a variety of endeavors, Bel Air had an image and philosophy that made it a perfect complement to the Raley's organization. The merger provided an opportunity for both companies to benefit by building on their mutual strengths while retaining their own separate identities.

Today, 18 Bel Air Markets stand testament to the Wongs' commitment to providing the highest quality products and service.
Photos of Bel-Air on Fruitridge Road in Sacramento in 1999 (before remodeling):
More information: