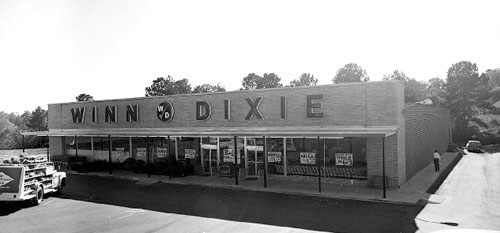 Modern company resulted from several mergers in the 1940s (Table Supply, Winn & Lovett, Steiden Stores, Dixie-Home, Kwik-Ckek, Ketner-Milner, and Margaret Ann). A large force in Southern Grocery retailing for decades, the company is currently going through a rough patch, having closed numerous stores in the past few years.
In 2005, half the chain was put up for sale, eliminating all operations north of South Georgia. In 2012, the chain merged with Bi-Lo, a former Ahold banner, into what would ultimately become Southeastern Grocers (though Bi-Lo and Winn-Dixie stores continued to operate under their own names).
Related:
From an archived version of the Winn-Dixie website:
It's been a long, dynamic journey that's taken us from Idaho to Florida. From two brothers running one small storefront to an impressive operation employing over 113,000 associates, working in more than 1,070 stores across 12 states and the Bahamas. For over 75 years, the Winn-Dixie name has stood for real quality and value. We're proud to have built our reputation on not only always delivering a quality product, but on constantly striving to find new ways to improve that quality. It's a tradition we're intent upon continuing far into the future.

The Beginning: From Idaho to Florida

1913:
In Burley, Idaho, Carl Davis begins working at the Clark Mercantile, the small local general store; his brother William Milton (W.M.) will soon join him at the store.

1914:
W.M. purchases the store and renames it the Davis Mercantile.

1925:
Heeding the advice of his brother Carl, W.M. decides to move to the booming Florida area to open a business. With a $10,000 loan from his father, W.M. purchases the Rockmoor Grocery in Miami. W.M. and sons Artemus Darius (A.D.), James Elsworth (J.E.), Austin and Tine are the store's stockholders.

1927:
The Davis family changes the store's name to Table Supply and opens four more stores.

1931:
W.M. and sons decide to pay $10,000 for retail chain Lively Stores. The acquisition leads to ownership of 33 Table Supply stores stretching across Southern Florida from Miami to Tampa.

1934:
After the death of W.M. from pneumonia, the four Davis sons assume responsibilities for Table Supply. Because the family believed W.M.'s death could have been prevented with better medical care, the family begins a relationship with the Mayo Clinic, which continues today.

The Making of Winn-Dixie

1939:
Bill Lovett, head of Winn & Lovett, successfully convinces the Davis brothers to acquire 51 percent of his company's 73 stores. The acquisition is the springboard from which the company will expand after the conclusion of World War II in the early 1940s.

1944:
The Davis brothers adopt the Winn & Lovett name and Jacksonville headquarters for their growing network of stores.

1945:
Winn & Lovett purchases 31 Steiden Stores in Kentucky.

1949:
Winn & Lovett makes another acquisition, Margaret Ann Stores, which adds 46 stores in Florida.

1952:
Winn & Lovett lists on the New York Stock Exchange, making it the first Florida industrial corporation to do so. The company's original ticker symbol, WIN, still is used today.

1955:
Winn & Lovett purchases Penney Stores in Mississippi, as well as Ballentine Stores and Eden Stores, both in South Carolina.

1955:
Through the acquisition of 117 Dixie Home Stores, the Winn & Lovett name is changed to Winn-Dixie Stores, Inc.

The Growth of Winn-Dixie

1956:
Winn-Dixie continues its expansion with purchases of Ketner-Milner Stores in North Carolina, Hill Stores in Louisiana and Mississippi and King Stores in Georgia.

1960:
After reading Booker T. Washington's Up From Slavery, J.E. Davis begins his support of black colleges. Through the subsequent years, Winn-Dixie supports Bethune-Cookman College, the National Council of Negro Women, Rust College, Florida Memorial College, the Tuskegee Institute, and many others.

1967:
The Company purchases City Markets stores in The Bahamas.

1969:
Winn-Dixie operates 715 stores throughout the South.

1973- 1976:
Winn-Dixie opens Division offices and distribution centers in Charlotte, Orlando and Fort Worth.

Moving Ahead: The Next Generation and Building Community Ties

1982:
A. Dano Davis, J.E.'s son, takes the helm as President and PEO (Principal Executive Officer) of Winn-Dixie. The next year, R.D. Davis, son of A.D. Davis, assumes the responsibility of Vice Chairman of the Board and became Chairman the next year.

1984:
Winn-Dixie opens its first Winn-Dixie Marketplace store, a 45,000-square-foot facility in Valdosta, Georgia.

1985:
The American Cancer Society/Winn-Dixie Hope Lodge opens in Gainesville, Florida, where people with cancer can stay without cost while they receive outpatient treatment. The initiative receives the Presidential Award for Private Sector Initiatives the following year. Two more American Cancer Society/Winn-Dixie Hope Lodges are opened in Miami (1993) and Atlanta (1998). When the American Cancer Society approaches Winn-Dixie to fund the idea, Winn-Dixie goes to their associates and pledges that the Winn-Dixie Stores Foundation will match their contributions dollar for dollar. The associates come through.

1989:
Winn-Dixie holds its first Youth Management Day, through which exemplary young associates assume managerial responsibilities for one day. The Youth Management Day remains an annual program for Winn-Dixie.

Moving Toward the Next Century

1995:
Winn-Dixie acquires 25 Thriftway stores in Ohio.

1996:
The first Self-Checkout System is installed and implemented in several more stores the next year.

1998:
The Company launches its Web site, www.winn-dixie.com.

1999:
Al Rowland takes the reins at Winn-Dixie as President and CEO.

Winn-Dixie Today

2000:
Winn-Dixie announces a major restructuring, including centralizing its procurement, marketing and merchandising.
Winn-Dixie purchases 68 grocery stores, 32 fuel centers and two liquor stores in Mississippi, Alabama and Louisiana.

2000- 2002:
Winn-Dixie converts more than 50 of its stores in Florida, Georgia and Mississippi to the SaveRite Grocery Warehouse format 2002:
Winn-Dixie launches the Customer Reward Card program which provides customers ongoing benefits that include merchandise discounts and special incentives.

2002:
Winn-Dixie exits Texas and Oklahoma to concentrate efforts in its core markets.

2003:
Current President and CEO Frank Lazaran takes the reins at Winn-Dixie.

2003:
Winn-Dixie launches its store brand for nearly 3,000 items sold in all 1,073 stores. The new private label brand offers customers national brand quality at a great value.

Today, Winn-Dixie is one of the largest food retailers in the nation and ranks 162 on the FORTUNE 500 ® list. The Company operates stores across the Southeastern United States and in the Bahamas and employs approximately 100,000 people.
Blog posts tagged "Winn-Dixie"