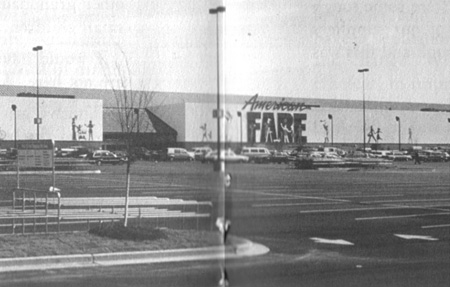 From an anniversary brochure produced by Bruno's stores sometime around 1989, the photo above shows one of the original American Fare stores, probably the Stone Mountain Parkway store in Atlanta. American Fare was an experimental joint venture between Bruno's Supermarkets and Kmart, and was based on the European concept of a hypermarché, the fusion of a discount department store with a supermarket.
The first of these stores opened in Atlanta in early 1989, while the second (now abandoned, pictured below) made its debut in Charlotte later the same year. A third location opened in Jackson MS a few years later. These stores marked a return for Kmart to the business of grocery retailing after more than a decade (the company had included leased grocery departments in many of its 1960s and 1970s locations) and served as something of a trial run for the later Super Kmart stores. American Fare, however, was originally a somewhat more upscale format than Super Kmart, with a more distinctive interior design scheme, not to mention brand name apparel its successor would eliminate in favor of Kmart's standard offerings.
Bruno's eventually sold its interest in the three American Fare locations, which were then rolled into the Super Kmart operation. The American Fare name lived on for several years afterward as Kmart's house brand for grocery and household items.