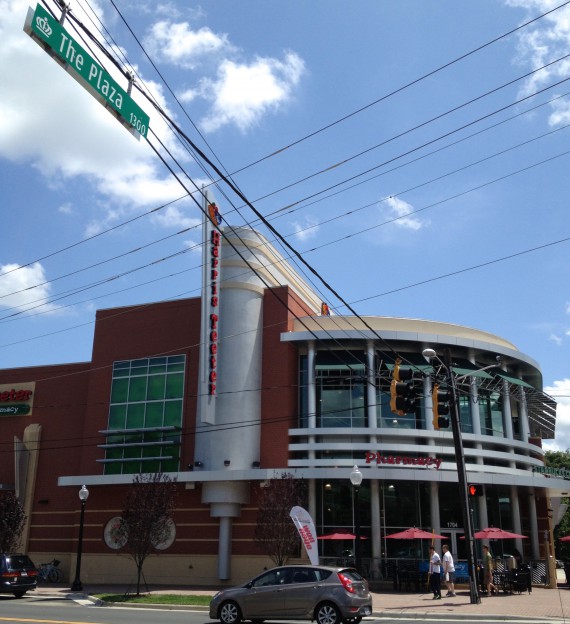 Some updates to the Charlotte section, including a new location spreadsheet via Google Sheets and updates to the history pages to reflect some corrections and updates to the original article.
Also in the works;
I'm building a Nashville location list and page.
I'm working on a new photo platform, which is why I have not uploaded new photos in a while.
Once again, for updates as I travel and other random tidbits, be sure to follow @GroceteriaWeb on Twitter.
Yes, I know it's been a year. And yes, I know that I haven't been answering email and that there have been problems with the Message Board. I have had personal issues and other things that have kept me extremely busy and I apologize.
But here are lots of new updates:
Four men sat down at a segregated lunch counter in Greensboro NC and changed history. The event was commemorated today with the opening of the International Civil Rights Center & Museum in the former Woolworth store where the sit-ins began.
On the same day, eighty miles south in Charlotte, "Harris Super Markets and Teeter's Food Marts officially merged to form Harris Teeter Super Markets, Inc. There were already 15 stores in operation. The first 'Harris Teeter' store to open under the new banner was in Kannapolis, NC." (via Harris Teeter website and The Charlotte Observer).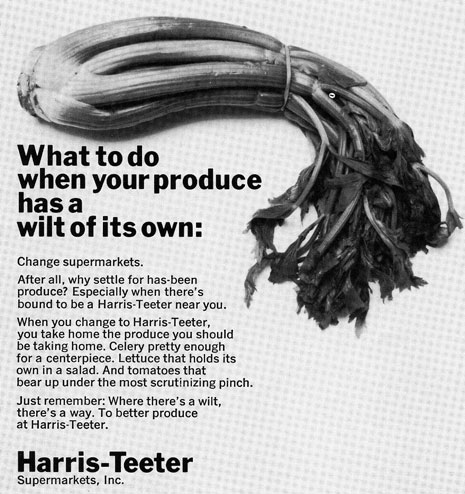 So is that vaguely phallic or what?
The ad is from 1968, again courtesy Pat Richardson (whose site you really should visit). These are actually fairly sophisticated image ads for a smallish regional chain in late 1960s North Carolina, although some might question the "Chinese lady" image of the second ad.
I've been incredibly busy with school and work the past few weeks, so the updates have been slow. But it seems I won't be taking any classes this summer, so that should be good news for the site, if not for my anticipated graduation date.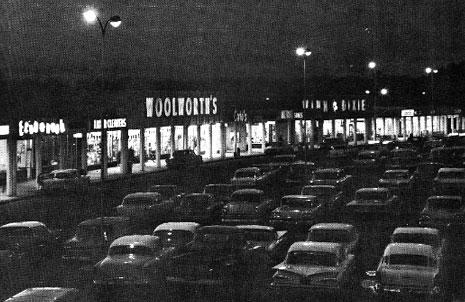 Winn-Dixie, 3830 East Independence Boulevard, Charlotte. Photo courtesy Pat Richardson.
The Winn-Dixie at Charlotte's Amity Gardens Shopping Center opened in November of 1958, right in the middle of the most thriving retail strip in the city. The center also included Woolworth's and a Barclay Cafeteria. By 1961, it also included Charlotte's first (and only) branch of Clark's, an early "supercenter" with both general merchandise and groceries.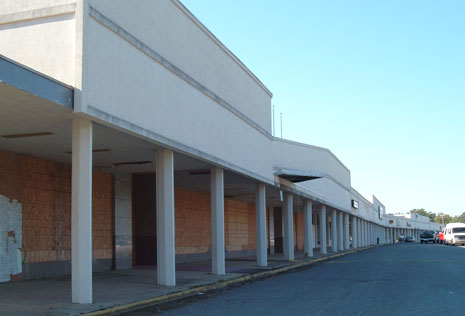 Amity Gardens Shopping Center, 2007.
By the 1980s, the center was already in significant decline, and the conversion of Independence Boulevard into a freeway sealed the fate not only of Amity Gardens, but of the entire retail strip from downtown to Albemarle Road. The old center is still standing today, more or less completely abandoned. Plans to demolish it and construct a Wal-Mart Supercenter are on hold. The years have not been kind to this once booming area.
More: