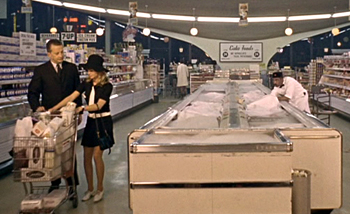 The Cala Foods location at California and Hyde in San Francisco, from the 1967 film Petulia.
This stunning bit of supermarket architecture and design has been featured on my front page before, but I thought a couple of vintage photos showing the original interior and unaltered facade might be nice too.
The store is still open, at least for now. It's been remodeled and slightly enlarged, but both were done fairly well. Kroger is trying to sell off the entire chain, so I suppose you could describe this one as somewhat endangered.