The 1920s
Fresno was a thriving farming and railroad town by the 1920s, with a rapidly-expanding downtown worthy of its promise. Early chains included the Economic Food Company and Martha Washington Stores, both of which also operated in Sacramento. Stores of the era were largely located downtown, along East Belmont and North Blackstone, and on North Van Ness in the area which would later become part of the Tower District. This was the streetcar era and most patrons walked or took transit for their shopping trips. Stores were small, and were often located only a few blocks from other stores in the same chain.
Piggly Wiggly opened its first Fresno location about 1923 at 1340 Van Ness Avenue. Other locations followed on Stanislaus Street and Fulton Avenue by 1925. The first Skaggs United store opened at 1043 Van Ness Avenue in 1926, and was soon to become part of the merged Safeway chain. Another growing chain (like Safeway, assembled by Charles Merrill of Merrill Lynch) was MacMarr Stores, which absorbed the Economic Food Company in 1929. Safeway would acquire the Piggly Wiggly stores in 1928, while MacMarr would join the Safeway family in 1931.
Local chain Black's Package Co. was in operation by 1922 and had several stores at the end of the decade. Justesen's, which may have originated in nearby Sanger, had its first Fresno location in place by 1926 (next door to Black's) at 1025 Van Ness Avenue.
The 1930s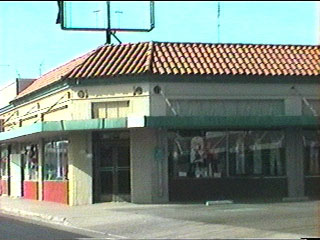 Former Safeway, 3609 East Ventura, Fresno CA.
Overall, stores in the 1930s were still limited to a similar geographic area as in the 1920s, but the focus had begin to shift away from downtown and into commercial strips adjacent to streetcar suburbs.
By 1935, Safeway, having absorbed absorbed MacMarr and Piggly Wiggly, was well on its way to being the dominant food retailer in Fresno. There was significant consolidation, as 32 Safeway-related stores from 1931 became only 20 in 1935; this was no doubt a result of both the mergers and of the current economic uncertainties. By the end of the decade, Safeway was building its new "drive-in" stores with parking lots, like the new location at 909 Olive Avenue in 1939.
Black's and Justesen's grew steadily during the 1930s as well.
The 1940s
The 1940s were a difficult period for grocery retailers nationwide, with both food and manpower shortages. The decade also marked the beginnings of the consolidation and enlargement of retail stores which would exploded following World War II. Many stores closed in the late 1930s, while others were expanded and relocated to better serve a population with increasing access to both automobiles and refrigerated storage.
Safeway was down to nine locations by 1944, although more than half were newer stores. Only two of the old Mac Marr stores remained, with one of those (354 C, in a relatively depressed area) dating back to the Economic Food Co. days, pre-1925.
Justesen's and Black's store counts remained fairly stable with some relocations through the 1940s. Their respective listings in the Fresno City Directory show that Justesen's had five Fresno locations in 1940 and four in 1951, and that Black's store count in Fresno dropped from six to four during the same period. The diminished store count may have resulted from consolidations into larger stores.
The 1950s
Many people call the 1950s the golden age of supermarkets and I'm inclined to agree. The smaller and older stores were fast becoming a thing of the past in Fresno and elsewhere. Safeway opened its first full supermarket on North First prior to 1951, and Black's had abandoned almost all its older locations for new and modern stores by the same year.
However, the Black's and Justesen's names would not last until the 1960s; the larger stores of each chain would eventually become part of a new chain, Food Bank, which made its first appearance in the early 1950s. A Justesen family member was CEO of Food Bank, according to a descendent of the family who once threatened to sue me.
Other new chains entering Fresno during the 1950s included Mayfair Markets, a venture of the Owl Drug Co. founders, and Purity Stores, a Bay Area chain, dating from the 1920s. Also represented, if briefly were Cinderella Stores, Green Frog Emporium.
Lucky Stores made a hasty entrance to (and exit from) Fresno in 1959-1960 with the purchase of two Sierra Foodland stores (Figarden Village and Belmont at Chestnut). Within a year, a third new-build store had opened at First and McKinley, but it lasted at most a couple of months before being sold to Purity Stores, along with the Belmont and Chestnut location. A few months later, the Figarden Village store was sold back to its original owners and rebranded as Village Foodland. The entire Lucky (unlucky?) experiment lasted less than two years.
Stores were also suburbanizing more rapidly during the 1950s, although Fresno was still more centralized than some California cities.
The 1960s
Big changes in Fresno occurred during the 1960s. This was the period of full-scale suburbanization, almost exclusively to the north and east, as the city became terribly lopsided, with a downtown at its southwest corner. New shopping centers and housing developments filled the gaps between the major streets and grocery retailers were at the leading edge of this trend.


Ventura Market, former Safeway, 3232 East Ventura, Fresno.
Safeway lost much of its claim of dominance in Fresno during the 1960s. Although many of its stores were newer, most were still centrally-located. Large new pylon-style stores had opened on East Shields and East Tulare in the late 1950s. The oldest store, the 1942 unit at 3510 Ventura was replaced with a modern new Marina-style unit down the street in 1964. But Safeway was slow in moving to the up and coming northside.
Food Bank and McMillan's were less shy and did reasonably well during the period; in 1967, McMillan's sold out to Save-Mart Supermarkets of Modesto. The stores operated briefly as "McMillan's Save-Mart" but had eliminated the McMillan name by 1970.  Mayfair Markets also made it through the 1960s with few scars. Less fortunate was Purity, which peaked at five stores in 1961 before falling to two in 1965. By the end of the 1960s, McMillan's, Purity, and Lucky would be gone. Safeway, Mayfair, and Food Bank would be ailing. Some independents like the Country Cousin Market and Hanoian's would be around for some time to come.
The 1970s
By the 1970s, It was beginning to seem that major chains might soon lose their dominance in Fresno. Safeway had rebounded somewhat, with new stores at Manchester Center and farther up North Blackstone as well. The oldest store now was the pre-1951 unit at North First and East Olive, which would be closed late in the decade, as would the late 1950s pylon store on East Tulare and an early 1960s store on North Cedar. By 1975, Safeway was back up to eight units in Fresno.
Alberstson's made a tentative stab at Fresno operations in the late 1960s (at 5150 North Blackstone) but was gone by 1975. Same story for White Front at 4150 North Blackstone, with its store closing along with the rest of the chain in about 1973. Alpha-Beta also entered the market with one store at 456 West Shaw late in the decade. The last new Mayfair Market in Fresno also opened on East Kings Canyon in the early 1970s; it was all downhill (if slowly) from then on for this chain.
The big news in the 1970s came from two small regional chains, Modesto-based Save-Mart and the franchised Foodland stores. Save-Mart purchased the assets of McMillan's in the late 1960s and was operating four stores by the end of the decade. Foodland purchased stores from many operators (including most of the remaining Food Bank stores) and ended the 1970s with eight locations.
The 1980s
Save-Mart continued its rise to the top of the heap among Fresno grocers during the 1980s, acquiring the small Country Boy chain and actually building some of its own locations (which was not common in most of its other trading areas). Foodland held steady, with some new stores but also with a net loss of two branches from 1981 to 1985.
Safeway built three of its last new stores in Fresno during the late 1970s and early 1980s on East Shaw, West Bullard, and North West. But Safeway's corporate meltdown began in 1986 and Fresno was hard-hit. Only six stores remained in operation by 1985 and even fewer would survive into the 1990s. Oddly enough, the current oldest store of the bunch, the late 1950s unit on North Fruit, remained one of the most viable to the bitter end and is still a money maker for Save-Mart, which bought it and the one other remaining Safeway on North West in 1996.
Alpha-Beta grew slightly during the 1980s as well, but this name essentially ceased to exist by the end of the decade, courtesy of a merger with Lucky Stores. Lucky, after an unsuccessful attempt to enter the Fresno market in the late 1950s opted against converting any of the Fresno outlets.
Mayfair Markets was down to one unit by 1985, a 25-year-old store in the Tower District, which managed to hang on for eleven more years before closing in 1996.
New to the field by 1985 was Vons, which opened three new stores in the early 1980s.
The 1990s
By 1990, Save-Mart was most likely Fresno's dominant food retailer. It had acquired one former Alpha-Beta and one former Safeway by 1990, and would acquire the two remaining Safeway stores in 1996, ending the decade with 13 stores.
Safeway, on the other hand, had become a non-entity. Down to two stores in 1990, it finally sold both of these to Save-Mart in 1996. The forty-year-old store on North Fruit is still quite profitable for its new owner. Safeway was not quite finished with Fresno, however, as it increased its 35% ownership stake in Vons to 100% in 1997. The seven Vons units in Fresno today are essentially Safeway stores in everything but name.
Foodland suffered through the 1990s and finally closed for good in 2001 after dropping to three locations. on the other hand, Albertsons returned to Fresno after a twenty-year absence in the early 1990s, with three new stores. Fresno is also served by Food Max (Save-Mart's warehouse operation), Food4Less, Save-a-Lot, Trader Joe's, and Ralphs, not to mention numerous independents.