Last Updated on 26 November 2022
Colonial Stores, Inc. was for much of the twentieth century one of the nations largest supermarket operators. At the peak of expansion, the company has had in operation over 500 stores. At the greatest geographical expansion, the company was operating in 11 states, including Virginia, North Carolina, South Carolina, Georgia, Florida, Alabama and Maryland under the Colonial Stores name and in Ohio, Kentucky and Indiana under the Albers and Stop and Shop names. Despite the fact that the company was made up of several organizations that predated the incorporation of David Pender Grocery Company in Norfolk, VA on January 24, 1901, Colonial Stores claims that date as its official founding, and has celebrated 50th and 75th anniversaries accordingly. That founding, 100 years ago, may seem insignificant now, one of hundreds of grocery chains that operated during the twentieth century and have since disappeared, but as we look at Colonial, we shall see that the company is unique in many aspects.
David Pender, a native of Tarboro, NC, came to Norfolk, Virginia in the 1890s, seeking his fortune, just as had many young men who had left farms and small towns and traveled to cities in search of their future. Working in the retail grocery industry, Pender soon set out to establish his own store. That store was opened as the David Pender Grocery Company at the corner of Market Street and Monticello Avenue in Norfolk, Virginia in 1900. The store was a success, and Pender incorporated his company in January 1901. Over the next 19 years the store prospered, offering the people of Norfolk the finest in groceries, meats, and fresh produce. A fleet of horse drawn wagons were employed in the earliest years, delivering goods to outlying areas. So great was the trade that in 1919 Pender decided to open a branch store and a location at 619 Colley Avenue, also in Norfolk. Other stores followed, and soon Pender "DP" stores were found across Eastern and Central Virginia and North Carolina.
On January 1, 1926, David Pender Grocery Company became a publicly owned corporation , and having built the chain to a total of 244 stores, founder David Pender retired. He would later pursue a career in grocery manufacturing and wholesaling. Under public ownership, David Pender Grocery Company became a subsidiary of National Food Products Corporation of Boston, MA, a company operating under the direction of industry pioneer, Mr. Russell B. Stearns.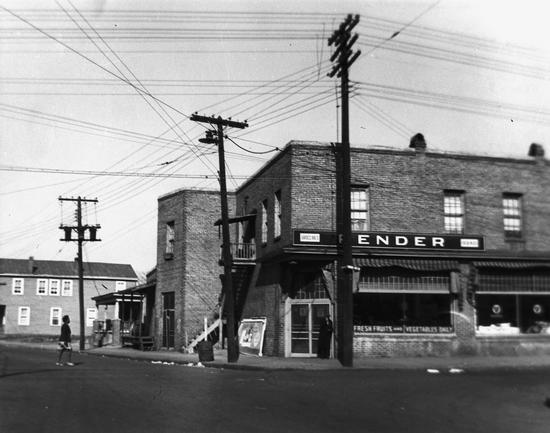 Pender's, County and Chestnut Streets, Portsmouth VA.
It was under the leadership of Stearns that two food chains owned in part by National Food Products were guided. The second chain, Atlanta, GA based L. W. Rogers Grocery Company, also had a lengthy history in food retailing.
L. W. Rogers was a native of rural Maine, who traveled with his wife south to bustling Atlanta in the early 1890s seeking his fortune. In 1892 L. W. Rogers opened his first grocery outlet on that city's Whitehall Street. >From that single outlet Rogers expanded throughout Georgia and South Carolina in the first twenty years of the twentieth century. In 1926 L. W. Rogers was reorganized as Southern Grocery Company, also under investment ownership of National Food Products.
In the early 1930s Russell Stearns was carefully guiding the two chains, Rogers and Penders, with combined buying power and a steady expansion program. By 1936 it is known that Pender was operating over 400 stores, Rogers well over 100.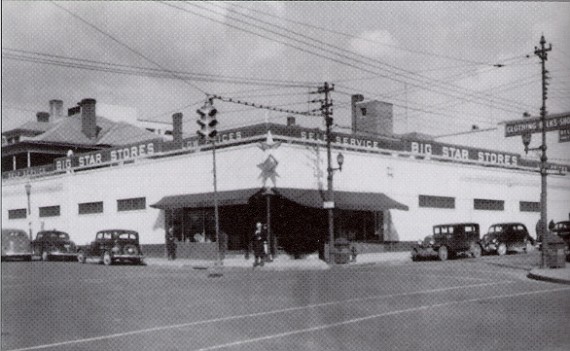 First Big Star supermarket, later Colonial, West Washington Street, Greensboro NC.
It was in 1937 that the Pender-Rogers combination opened their first self-service supermarkets. In December of that year the first two stores, branded "Big Star", opened in Greensboro, NC and Griffin, GA. These two stores were only the first of many to come.
The National Food Products controlled Pender and Rogers chains were combined on December 19, 1940 as Colonial Stores, Incorporated, headquartered in Atlanta, GA. At that time, conventional stores were in operation under the names Pender and Rogers, with some 50 self service stores operating as "Little Star" (smaller neighborhood stores) and "Big Star" (full-line supermarkets). Some listings for stores during World War II show the name Colonial Stores (specifically Washington, NC), but it is likely that listing refers to the corporate owner of the store. It cannot be confirmed that the Colonial name was applied to any store prior to the end of World War II. Shortly after the war, however, the effort was being made to convert more stores from counter-service to self service, and to consolidate under a single name.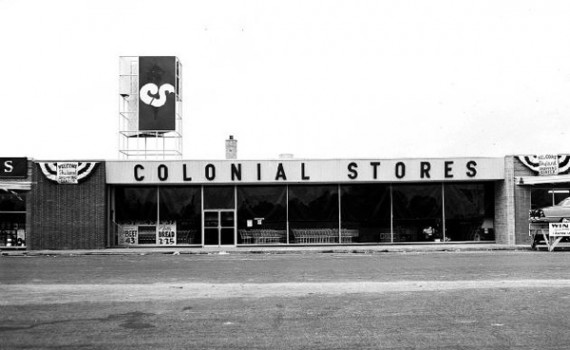 Colonial, Clairemont and Buford Highway, Atlanta GA, 1955. Georgia State University.
On August 3, 1947 Colonial Stores, Inc. introduced their "CS" rooster logo and began converting all of the self service stores over to the "Colonial Stores" name. Company reports indicate that all of the counter-service stores had been closed or converted by 1955, although the latest listings I can find for any Pender store date from 1951, in Williamsburg and South Boston, Virginia and Plymouth, North Carolina. It may be that those final few counter-service stores were also carrying the Colonial Stores name after that time.
In June 1955 Albers Super Markets, based in Cincinnati, OH, was purchased by and merged into Colonial Stores. Albers, founded in 1933, owned the oldest trademark that included the words "super market", having operated self service supermarkets from its inception. At the time of the merger there were 66 Albers stores in operation in Ohio and Kentucky. Later that year, in November, Colonial Stores purchased the Indianapolis based Stop and Shop Companies, operating 14 stores in Indiana and Kentucky. While the Albers purchase formed the basis for successful operations for many years, the Stop and Shop operation was less than successful for Colonial and those 14 stores were sold in 1959.
Colonial Stores, in a effort to further secure their future in food retailing, entered into the business of licensed discount food stores in conjunction with discount department stores, opening three such leased departments in 1961. In 1962 this effort was solidified with the opening of a K-Mart Foods leased grocery department in Greenville, SC and a Treasure City Foods leased grocery department in Fayetteville, NC. The following year four additional low-margin, no-frills stores were opened, including the first to be independently operated under the company's own brand, a resurrected "Big Star" brand.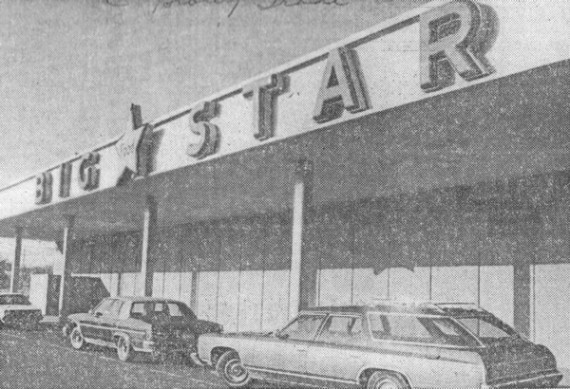 Big Star, former Colonial, later Harris Teeter, Charlottetown Mall, Charlotte, 4 January 1984 (Charlotte Observer).
Over the next ten years leased food departments and an ever expanding count of discount Big Star stores would dominate the company's growth, while conventional Colonial and Albers supermarkets were constantly upgraded and improved. Downtown stores gave way to free-standing suburban and shopping center stores all across the southeast and Ohio. In 1970 Colonial operated 430 stores in nine states.
The discount movement had taken a firm hold in grocery retailing during the 1960s, and the 1970s found Colonial competing with A&P "W.E.O." (where economy originates) stores, Food Town stores, and other discount operations found in combination with discount department stores. In 1974 the Albers operation in Ohio and Kentucky was sold, and many of the existing Colonial stores were converted to the low-margin Big Star operation, so much so that Big Star became the company's predominant trademark.
As best as I can discern, it was 1977 when Grand Union, based in New Jersey, purchased the Colonial Stores operation. Grand Union, primarily a northern grocery retailer, was at that time already over a century old. It seems, however, that the Colonial purchase was the beginning of the end for Grand Union, as the company has been in financial trouble off and on since that time, finally filing for bankruptcy and selling of assets in March 2001. In the first years after the Colonial purchase, however, Grand Union began revitalizing the operation, as the remaining Colonial outlets were closed and the Big Star outlets were upgraded.
The Norfolk division, long considered by locals to be the "home" division, was closed in the 1980s, with many of the stores being purchased by the then-expanding Food Town (Food Lion) chain. In 1988 Grand Union abandoned the southeast, with the North Carolina and remaining Virginia stores being sold to Harris-Teeter, and the Atlanta division stores being sold to A&P. Harris Teeter sold many of the smaller and small-town stores to Piggly Wiggly Carolina, Inc., converting the remaining sites to their Harris Teeter name. Big Star survived in Georgia until 1992, when A&P began retrenching, withdrawing from major markets, and closing the remaining stores.
Thus, some 95 years after David Pender incorporated his operation, some 104 years after L. W. Rogers opened his first store, one of the great southern grocery retailers was gone. The company had essentially pioneered self-service supermarkets in Virginia, North Carolina, South Carolina and Georgia, and had influenced supermarket development in the other states in which they operated. Abandoned Colonial store sites haunt the strip developments of Norfolk, Charlotte, Atlanta and numerous southern towns as well, monuments to a effort that brought modern grocery retailing to the south.