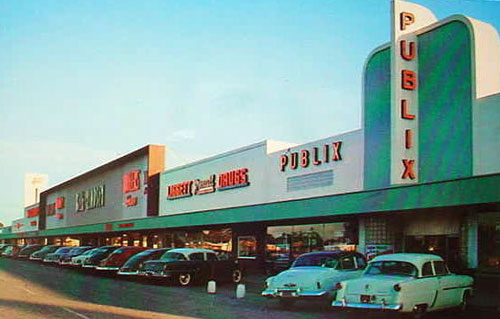 Major family-owned Florida and southeastern chain dating from the 1920s. The history section of their website is very informative.
From an archived version of the Publix website:
1930s:

In the midst of the Great Depression, George Jenkins walked away from the security of a good job to open the first Publix store in Winter Haven, Fla. This store set not only a new precedent for cleanliness and beauty, but also the Publix standard for employee relations. Mr. George, as he was affectionately called by his associates, established profit-sharing and employee ownership. Gross annual sales in the early years averaged about $100,000, slowly rising to $120,000 by 1934.

In 1935, a second store opened on the other side of the downtown business district. While many of his competitors' store shelves went bare for lack of goods, Mr. George traversed the country seeking products to send back home to stock his stores. In his travels, he also garnered ideas about how to better the business.

1940s:

In 1940, George Jenkins mortgaged an orange grove he had acquired during the Depression for a down payment on his dream store – Florida's first supermarket. He built his "food palace" of marble, glass and stucco, and equipped it with innovations never seen before in a grocery store. Air conditioning. Fluorescent lighting. Electric-eye doors. Frozen food cases. Piped-in music. Eight-foot-wide aisles. Open dairy cases designed to Mr. George's specifications. In-store donut and flower shops. People traveled from miles to shop there, and Publix prospered.

But again, larger forces restricted his plans: the country was at war. In 1945, with construction expansion constrained by wartime shortages, Publix purchased a chain of 19 small All American grocery stores.

1950s:

By the end of the '40s, the small chain of stores Publix bought and refurbished had fulfilled their mission by launching the Publix chain. With peace came new prosperity. Now, at last, George Jenkins could fulfill his dream to build a chain of stores as fine as that first Publix Super Market.

Publix began closing its older stores and replacing them with modern ones. In 1951, to help build and supply the stores, a 125,000-square-foot warehouse and headquarters complex was completed in Lakeland. As the chain grew, so did the Publix spirit, based on the extraordinary policies and attitudes founded in the first store. Sales grew, too. In 1951, the chain's 24 stores grossed more than $18 million. By 1955, gross sales had increased to $49 million with earnings of $830,504. In 1956, Publix recorded its first million-dollar profit year.

1960s:

The expansion begun in the '50s continued at full speed throughout the '60s, with Publix spending $63.1 million on expansion from 1959 to 1969. In 1962, there were 85 stores. By 1969, there were 150. While the first wave of building focused on central Florida, geographic expansion dominated the '60s. Publix purchased seven new stores in 1959, mainly in the southeast coast area, to get a foothold in that market.

By 1963, Publix had opened the Miami Division and constructed a 300,000-square-foot distribution center to supply the growing number of stores there. The first Publix Deli was also installed during this era.

George Jenkins's reputation was growing along with the business, and he was elected president of the Super Market Institute in 1961. Profits were likewise fabulous; a share of Publix stock, valued at $2.50 in 1958, was worth $44 by 1969.

1970s:

In 1970, Publix achieved another high mark, recording nearly $500 million in sales – a figure that would double in four short years. Three new stores opened in Jacksonville in the early '70s, laying the foundation for a new division. A bakery plant and a produce distribution center opened in 1973. Other construction milestones included various distribution centers and storage and distribution facilities.

By 1978, Publix was grossing nearly $2 billion annually, with profits of more than $32 million. Store expansion also continued, and 1979 was a record-breaking year, with 15 new openings. Publix was spending nearly as much every year for expansion as it did during the entire previous decade.

1980s:

Publix turned 50 in 1980 and celebrated by kicking off a decade of technological innovation. In keeping with the company's penchant for using technology to make shopping more pleasurable, Publix introduced check-out scanning statewide.

More innovation came in 1982, with the launch of the Presto! ATM network. In the mid-'80s, the Lakeland deli plant began production and an Orlando store pioneered the first Publix pharmacy. Scores of distribution centers and processing plants opened around the state, and by the end of the '80s, Publix had 367 stores and 64,000 employees. In 1989, total revenues were $5.4 billion.

This also was a decade of evolution, as Howard M. Jenkins assumed the roles of CEO and Chairman of the Board.

1990s:

1991 saw a milestone in Publix history when the company crossed the state line to open a store in Savannah, Ga. Our Atlanta Division soon followed. The ensuing years were filled with accolades. In 1993, the book, The 100 Best Companies To Work for in America, named Publix in their top 10. Publix is consistently recognized as tops in the grocery business for superior quality and customer service by an American Customer Index survey.

In 1993, Publix opened its first store in South Carolina. The following year, the Florida Commission on the Status of Women honored Publix for progress in programs that support women. In 1995, Fortune magazine ranked Publix the 29th most admired company nationwide and Publix made Fortune's Famous 500 and Global 500 lists.

Business continued to boom, and in 1996, Publix begin doing business in Alabama. Also in 1996, George Jenkins passed away. His spirit, however, lives on in Publix associates.

2000s:

Publix debuted its first in-store Meal Solutions Center, "Apron's," designed to show customers how to prepare healthy and tasty meals. Publix Pix, a series of gasoline-convenience stores, was also rolled out.

Once again, Publix was selected as one of Fortune's 100 Best Companies to Work for in America, and named one of the Most Admired Companies. Publix was ranked 132 on the Fortune 500 in 2000 and passed the $14 billion mark in sales. In 2001, Charlie Jenkins Jr. replaced his cousin Howard as CEO of the company.