I made a road trip up to Wilkesboro and North Wilkesboro on Sunday. These foothill towns have always been a little over-retailed relative to their size, because they serve a rather large, rural hinterland. The Wilkesboro area is also the birthplace both of Lowes Foods, the regional grocery retailer, and of the nationally-known Lowes Home Improvement.
I'm guessing the store in the photo above, just east of downtown North Wilkesboro, is a former A&P, but I could be wrong. The store below, located east of downtown, definitely was, though:

This one may have done some time as an A&P as well, even though it was obviously built as a Kroger. Note the revamped pole sign sporting A&P's Sav-a-Center logo , probably from the late 1980s: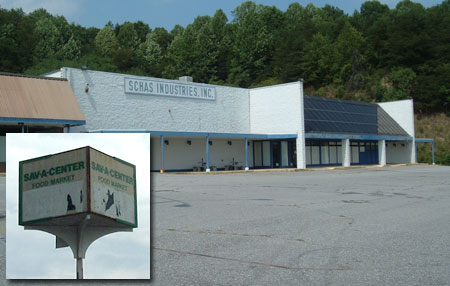 The Sav-a-Center inset photo is by Groceteria reader Thom Wright, by the way.
The following, from downtown Wilkesboro, strikes me as a likely Piggly Wiggly location, but I have no evidence to back that up:

Last on the tour is a remodeled, but seemingly rather old (and definitely very small) Lowes Foods on old US 421: