The 1920s
In 1925, the thriving city of High Point was home to three A&P locations, all of them in the downtown area. Also located downtown were one Piggly Wiggly branch, and George Hutchens' nine year old grocery on West Washington Street (now East Kivett Drive) near from the railroad tracks.
Other independent grocers were located throughout the city as well. The 1920s were, however, a boom time for chain stores, and A&P advanced its store count to ten by the end of the decade. Many of the new locations were outside the center city, farther north and south along Main Street, and to the east and west along Green Street (now Green Drive), Russell Street, and English Road.
George Hutchens also opened new stores in the 1930s. His renamed National Food Stores (no relation to the chain in the northeastern US) boasted four locations in 1928. The Norfolk VA based David Pender Grocery Company had also discovered High Point, opening six locations in the latter half of the decade.
The 1930s
Through the 1930s, A&P continued to be the dominant chain in High Point, operating ten stores in increasingly suburban locations through much of the decade. Consolidation and the Depression had reduced this number to only three by 1940.
George Hutchens had also increased his store count to ten by 1935, and most of these were located outside the center city as well. The original downtown location, which had been remodeled in 1934, was expanded again four years later, and opened on 22 April 1938 as a Big Bear store (again, no relation to the northeastern Big Bear chain). The modern store contained over 10,000 square feet of space on two floors, although only the lower level was open to customers. This store was Hutchens' entry into the supermarket concept, and it was followed shortly after by three other Big Bear stores. Five of the smaller National Foods stores were still in operation by 1940 as well.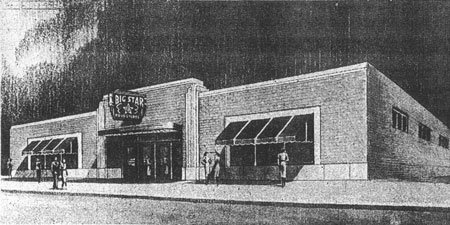 Big Star, 314 South Elm Street. (High Point Enterprise).
Pender's quickly moved into the supermarket game as well. Two months after Hutchens opened his first Big Bea store, Pender's opened a Big Star supermarket on South Main Street. Open 15 June 1938, the attractive 12,000 square foot store on was similar to new stores being opened in Charlotte at the time, but differed somewhat from the first Big Star, opened in Greensboro two years earlier. This single store replaced all six High Point Pender's locations.
The 1940s
The 1940s and World War II brought more consolidation and store closures. A&P operated only two stores in High Point through the 1940s, although one at 900 North Main was a new store open in the first half of the decade. The Big Star on South Main was also the only unit of its chain in the city, and that chain changed its name to Colonial Stores about 1947. In 1948, High Point's first Kroger opened next door to the Colonial store.
Big Bear/National Foods was, by far, High Point's dominant grocery chain during the war and early postwar years. The National brand was dropped from the stores after the war, and the last of these older stores (at 1548 English Road) was renamed "Little Bear" for the few years it remained open. A few of the other National stores were expanded into supermarket-type units.
By the end of the decade, High Point had five Big Bear supermarkets in addition to the one Little Bear. The newest of the supermarkets was the 1949 store on North Wrenn Street, adjacent to the site of Hutchens' original store on Washington Street. The new Wrenn Street Big Bear had 9600 square feet of space, eight checkout lanes, and room for 250 cars. By this time, the chain had also expanded to Winston-Salem and Asheboro.
The 1950s
A&P finally replaced its aging High Point stores in the early 1950s: South Main in 1953 and North Main in 1955. Its store count remained at two, though, until 1959, when one of its new "centennial" prototype stores opened, appropriately enough, on North Centennial Street.
Perhaps due to competition from the new Kroger next door, Colonial Stores relocated to 133 Montlieu Avenue in 1952, a site it and its successor companies would retain for thirty-five years. Despite relocating, Colonial continued to operate only one store in High Point through the 1950s.
Kroger doubled its store count with the 1959 opening of its location in a new shopping center on East Lexington Avenue. College Village, High Point's first large shopping center, was anchored at the other end by the city's first Winn-Dixie store.
Big Bear continued to dominate the landscape through the 1950s. In 1955, one of the oldest locations, at 1303 North Main moved across the street to a new facility. Like another store, at 1100 East Green, this store had been an expansion of one of the old National stores from the 1930s. The Green Drive store closed soon after as well. As the 1950s closed, Big Bear had five stores in High Point.
Around 1950, several neighborhood independents joined together to form the Red Dot co-op as a means of competing with the large chains. The original members were Horn's Red Dot, Craver's Red Dot, Village Red Dot, and Ward Street Red Dot. An additional member, the Highland Red Dot would be added by the end of the decade.
In 1956, the owners of Haithcock's, a small chain of two stores, opened their first Cloverleaf store on South Main Street, presumably so named because it inhabited the area inside a cloverleaf-type onramp to the new US 29/70 freeway bypass (now I-85 Business Loop). For over five decades, Cloverleaf would be the most enduring independent in High Point.
The 1960s
The 1960s were a rather stagnant period in High Point, and food retailing was one illustration of this trend. A&P plodded along with its three locations in High Point throughout the 1960s, as did Colonial with its one. Kroger actually had a net decrease in store count, as it closed the 1948 store downtown, leaving only the College Village location.
Winn-Dixie, however, opened a second store midway through the decade, on the south end of town. Big Bear also opened one new store, around 1968, in Southgate, a new shopping center it developed on Greensboro Road at Five Points. Also, a Kmart Foods location opened on North Main Street in the late 1960s.
The 1970s
On 23 April 1970, Westchester Mall opened on High Point's southwestern fringe. The Triad's first enclosed shopping mall contained three department store anchors (Belk-Beck, Penney's, and Thalhimer's) and two supermarket outparcels, an A&P and a Kroger. Westchester was the final nail in the coffin of downtown High Point, which would quickly be transformed into little more than a collection of massive showrooms for the furniture market.
With the new Westchester location, A&P was back up to four units in High Point, while Kroger had two. Both retailers, however, had abandoned the city by the close of the decade. A&P's departure was part of its national meltdown, while Kroger's was more about its focus on more upscale, urban markets like Greensboro and Winston-Salem. Greensboro-based Bestway took over the Westchester Kroger location, while Cloverleaf took the Westchester A&P. Columbia Foods, another independent, took two of the three remaining A&P stores.
Colonial Stores converted its High Point location to one of its discount format "new" Big Star stores early in the 1970s. An additional Big Star location, the company's first new high Point store in more than twenty years, opened adjacent to a new Kmart on South Main Street about 1976.
Through the 1970s, Big Bear continued to dominate High Point's grocery business, although it began doing so under a new name, Food World, around 1972. The stores were still owned by George Hutchens and National Foods, so the name change is a bit of a mystery, but it may have been related to expansion plans that were taking the chain into areas close to the territory of a preexisting Big Bear chain.
Also in the early 1970s, two Big Bear stores dating from the 1940s were closed, English Road (open 1945) and the last downtown store on Wrenn Street (open 1949). A third location, the 1955 location on North Main closed in 1975; this store relocated to the new High Point Mall on Eastchester Drive. Another new store had opened a few years earlier just south of Westchester Mall.
Winn-Dixie also relocated its College Village store to High Point Mall in 1975. The College Village space became a Cloverleaf. Cloverleaf peaked at three High Point locations in 1980.
Salisbury-baased Food Town came to High Point around 1974, with a location in a new strip center on South Main Street. A few years later, Food Town took over the Kmart Foods location on North Main as well.
The 1980s and Beyond
High Point would lose even more chains in the 1980s, including homegrown favorite Food World. In 1984, Ruddick Corporation, parent of Charlotte-based Harris Teeter, purchased Food World; by the following year, the two chains had been merged under the Harris Teeter name. Ultimately, only two Food World locations would survive under Harris Teeter to the end of the decade: the relatively new High Point Mall store and the pre-1965 unit on South Main.
Harris Teeter struck again with its 1988 acquisition of the Carolinas' Big Star stores, which had been purchased by Grand Union ten years before. In High Point, neither of the two Big Star stores reopened under the Harris Teeter name, even though one, on Eastchester Drive across from High Point Mall, had been open only a year. This store had been a relocation of the 35-year-old Montlieu Avenue store, originally a Colonial.


Harris Teeter, formerly Food World, High Point Mall.
In 1999, Harris Teeter acquired most of the Triad-area Kroger locations. Kroger had returned to High Point in 1987 with a store on Eastchester Drive. This location survived for three years after the acquisition, but closed in May 2002.
Food Town, which became Food Lion in 1982, upped its store count to three in 1985 by taking over the former Kroger (later Bestway) space at Westchester Mall. By the 1990s, Food Lion was the dominant grocer in High Point, with seven locations.
Winn-Dixie held on in High Point until its departure from North Carolina (and about half its trade area) in 2005. The last store open was the High Point Mall location from 1975.
Bi-Lo, a South Carolina based newcomer entered the Triad market in 1994, with its first location on North Main Street in High Point. The Triad stores were sold to a wholesaler in 2005, and operated as Southern Family Markets for a year before closing for good in 2006.
Hannford Brothers of Main chose High Point for their one Triad outpost around 1996. Its plans for expansion in the area came to an end when the chain was acquired by Food Lion's parent company. Antitrust issues forced the divestiture of all the newly-opened stores in the southeast.
As for the independents, Cloverleaf still has its one store on Montlieu Avenue, in a 55-year-old building that started out as a Colonial store. Columbia still has its 48-year-old A&P on Centennial. The Red Dot co-op is no more, but one original member, Horn's Red Dot still sports the sign, although the store is under new ownership.