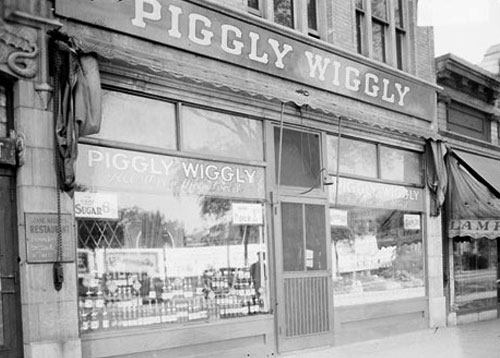 Piggly Wiggly is (and always has been) a franchise rather than a chain, although there have been large "chains" among the franchisees; Kroger at one point owned and operated more than 400 Piggly Wiggly stores and Safeway operated several hundred as well. Very much associated with the South and the Midwest, the company has actually had franchisees all over country, including Alaska and Hawaii (even before statehood).
Timeline:
1916: Clarence Saunders opens the first Piggly Wiggly store at 79 Jefferson Street in Memphis. Saunders patented the format and began franchising within a few years.
1922: Saunders lost control of the company in a questionable series of stock transactions.
1928: Kroger purchases a controlling interest in Piggly Wiggly Corporation, and also buys approximately 400 franchised Piggly Wiggly stores, mostly in the Midwest (and including the original stores in Memphis). Around this time, Safeway acquires most of the West Coast Piggly Wiggly stores. Other franchise groups are owned by National Tea Company and what will eventually become Colonial Stores. The large chains operate these stores as they transition their own stores to self-service.
1941: Kroger sells its controlling interest to W.R. Lovett of Jacksonville, Florida, who operates the parent company until his death in 1978. Lovett had sold his Winn & Lovett stores in 1939 to the Davis family who merged the chain into what became Winn-Dixie.
1982: Wholesaler Malone & Hyde purchases the parent company. Malone & Hyde will later be acquired by the Fleming Companies.
2003: C&S Wholesale Grocers acquires the parent company when Fleming went bankrupt.
Notes:
Safeway purchased and operated the west coast division (including San Francisco) from 1928 to about 1935 before absorbing it into the Safeway brand.
Stores are currently limited mostly to smaller towns in the midwest and southeast.
Many eastern North Carolina stores are former Colonial/Big Star stores sold off when Harris Teeter purchased the NC operations of this chain.
In This Section:
More Information and References: