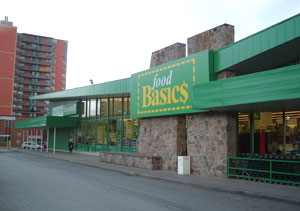 This Food Basics store on Yonge Street in North York, Ontario definitely gets first place in the "cool sightings from my recent road trip" contest. I'm not sure if it's a former Dominion, A&P, or what, but I almost spit out my nifty Canadian formula Diet 7-Up when I saw it.

This was a close second. A current Red & White franchise, it was originally a Loblaw's, and is located on Lakeshore Avenue, in (I believe) the Islington section of Toronto. The Loblaw's label scar is even still visible on the front, although it didn't photograph well.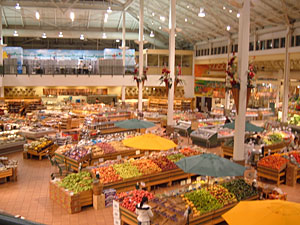 Speaking of Loblaw's, I rarely feature new stores here, but this megastore at Queens Quay Market was too amazing not to include. Keep in mind that this photo is only the produce department, which is about a third of the total floor area of the store.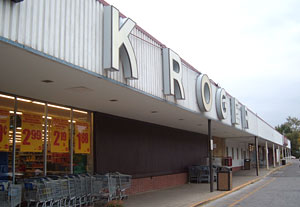 I was relieved to see that one of my favorite old Kroger locations, on Tenth Street in Indianapolis, is still open. The store is all of 10,000 square feet, but it does a booming business in the surrounding (not great) neighborhood. I even got a few photos inside this time through.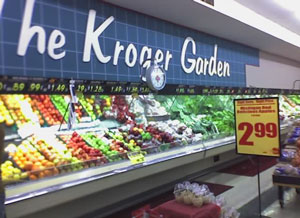 More pictures and commentary tomorrow.