Last Updated on 26 November 2022
The 1970s:
In the 1970s, the buzzwords were "recession" and "discounting", and Charlotte also saw some new competitors enter the area. Eastland and Southpark Malls opened, downtown was in trouble, and Charlotte was growing fast, starting the 1970s with a population of 241,000.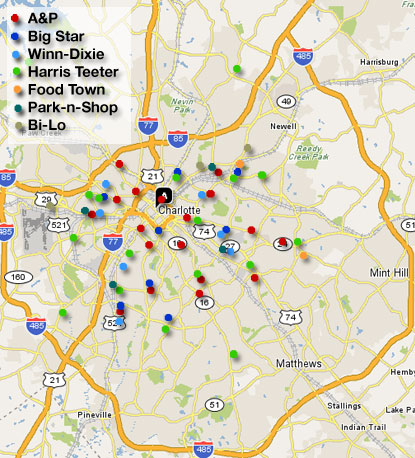 Charlotte chain grocers, 1975.
In 1971, the following chain grocers were operating in Charlotte:
A&P/A-Mart (21 stores)
Harris Teeter/Big M (13)
Colonial/Big Star (10)
Winn-Dixie (7)
Kmart Foods (4)
Park-n-Shop (4)
Piedmont (4)
Reid's (4)
In 1975, this was the count:
A&P (19 stores)
Harris Teeter/Big M (18)
Colonial/Big Star (8)
Winn-Dixie (8)
Park-n-Shop (4)
Reid's (4)
Bi-Lo (3)
Giant Genie (3)
Kmart Foods (3)
Food Town (2)
At the dawn of the 1970s, A&P was operating 21 stores in Charlotte, more than at any time since the 1930s. It was telling, though, that four of these stores (East Seventh, Providence, Park Avenue, and East Morehead) had been open SINCE the 1930s, while a fifth store (North Tryon) dated from the mid 1940s. Nearly a quarter of A&P's stores were more than 25 years old in 1971.
While the chain had suburbanized, it had also maintained a large number of old, small, and outdated stores near the center city. This was a pattern repeated nationwide, and it was one of many factors leading to an mid 1970s meltdown in which the company closed nearly half its US stores. Charlotte was not spared: five of its oldest stores closed in April 1975, including the landmark 1938 self-service store on Park Avenue in Dilworth.
As did many chains, A&P tried its hand at discounting in the 1970s. Its first attempt was the launch of the A-Mart brand. The Freedom Mall branch in Charlotte used this name and format; others may have done so as well. A lawsuit by Kmart ended use of the A-Mart name, but the discounting program was somewhat unsuccessfully resurrected later in the decade using the "WEO" slogan, which was an acronym both for "where economy originates" and "warehouse economy outlet". Stores continued to use the A&P name in conjunction with WEO.
Only one new A&P store would be built in Charlotte during the 1970s, at Albemarle Road and Farm Pond Lane. By 1980, the chain would have only nine remaining Charlotte locations and only an 11% share of the market.


Unidentified Harris Teeter store. Courtesy Harris Teeter.
The 1970s were boom years for Harris Teeter, as the chain finally overtook A&P as Charlotte's grocery leader, both in store count and market share.
In 1970, Harris Teeter opened a Big M discount supermarket in the Zayre shopping center at East Independence Boulevard and Rama Road. Harris Teeter's discount format was quickly applied to several older inner-city stores and even to some newer stores in less affluent areas. While the upscale Southpark and Cotswold areas, for example, retained their Harris Teeter stores, working class Freedom Village and Eastway Plaza got Big M instead.
Harris Teeter opened several new stores in the 1970s, including a Big M at Freedom Mall (which operated only two blocks from the preexisiting Freedom Village location for over a decade), Providence Square, Hampshire Hills, Carmel Commons, Eastland Mall and Derita.
In 1976, Harris Teeter gave up on its Big M discount format and "merged" the two chains back into one, calling it "Harris Teeter/More Value", and employing WBTV personality Betty Feezor as spokesman. The "More Value" identifier was subsequently dropped, and by 1980, Harris Teeter was the top grocer in Charlotte with 20 stores and 26% market share.
As mentioned earlier, Colonial Stores was the first area player to establish discount stores in a major way with its Big Star chain. During the early 1970s, the remaining Colonial locations were closed, relocated, or re-branded under the new name.
The aging store at 2701 The Plaza was closed altogether, while the Freedom Village and East Independence Colonial branches were relocated to new centers under the Big Star name. The former moved in 1972 to the new Zayre Shopping Center on Freedom near I-85. In addition, a new Colonial location opened adjacent to Southpark Mall in 1970; this branch opened under the Colonial name but had been switched to Big Star by 1975.
By decade's end, there would be only five Big Star stores remaining in Charlotte. Interestingly, three of these (Charlottetown, Park Road, and North Graham Street) were pre-1960 units which had opened as Colonial stores. Newer units had not fared so well; only the Southpark branch and the relocated Independence Boulevard store survived the 1970s. The Big Star format, which had been rather successful in other parts of the southeast, apparently did not work as well in Charlotte, where the chain had dwindled to a 4.5% market share by 1980.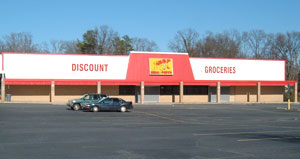 Former Big Star, later Winn-Dixie, Freedom Drive.
Winn-Dixie expanded steadily through the 1970s and was in second place (with 16% market share) behind Harris Teeter at the end of the decade. Its oldest store on Tuckaseegee Road, the last of the original Dixie Home locations, finally closed in the late 1970s. Actually, this store relocated to a former Big Star site in the Zayre shopping center on Freedom Drive.
The Amity Gardens and Scaleybark Road branches also closed in the late 1970s, replaced by newer and more suburban stores.
Winn-Dixie's biggest competition in upcoming years would be from Salisbury-based discounter Food Town, which entered the Charlotte market in about 1973. Its first location was near the intersection of Eastway and North Tryon. With its LFPINC (Lowest Food Prices In North Carolina) slogan and bumper stickers, and its homespun ads featuring CEO Ralph Ketner, the scrappy chain became somewhat of a phenomenon during the 1970s. By the end of the 1970s, Food Lion had seven stores in Charlotte and had managed to develop a 15% market share.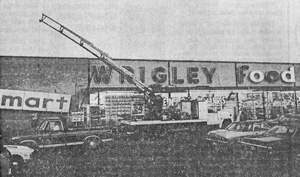 Kmart Foods store rebranded, Charlotte Observer, 8 May 1976.
By mid-decade, the Kmart Foods locations were apparently in trouble. These stores were actually operated by Allied Supermarkets rather than Kmart; they merely used the Kmart name. That came to an end in May 1976, when three of the four Kmart Foods locations in Charlotte were re-signed as Wrigey stores, the name Allied used on its stores in the Detroit area. The move was apparently designed to "differentiate" the supermarkets from their attached Kmart stores. This change did not apply at the Independence Boulevard store, which was then operated by Food Town stores after a brief stint as a Piggly Wiggly franchise.
The name change to Wrigey's was short-lived. Four months later, Allied gave up the stores for good. After some speculation that Food Town might take over the units, they were eventually sold to Greenville SC's Bi-Lo, which had recently opened two other stores in Charlotte as well, one on North Tryon Street and one on Wilkinson Boulevard.
An interesting Charlotte story from the 1970s is that of the Giant Genie chain. Its roots go back to the 1950s, when founder Leonard Coppala was a silent partner in the Colony Food Center on Selwyn Avenue. Coppala was also a developer, and he owned a building on Park Road which had housed a Harris supermarket and later was subdivided. When the building became vacant again in the late 1960s, Coppala moved the Colony Food Center into it. By the early 1970s, he left the construction business and began running his store full time, renaming it Giant Genie.
Two new stores opened in 1975, at Central and Sharon-Amity near Eastland Mall, and on The Plaza at Hampshire Hills. Illness forced Coppala to sell them to Food Lion shortly fater they opened, although he retained the Park Road store. Late in the 1970s, another Giant Genie opened in a former A&P location father north on Park Road in Dilworth.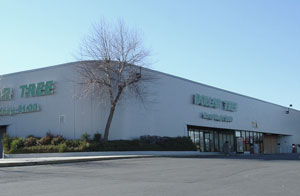 Site of one of Charlotte's initial Kroger Sav-on stores, Freedom Drive.
Ohio-based Kroger had operated stores in the NC Triad area and even as far south as Atlanta since the 1940s. In June 1977, Kroger announced that it would finally enter the Charlotte market by building three of its new Kroger Sav-on stores, which combined a full-service supermarket and a Super X drug store under one roof.
Two of the Charlotte stores were planned for small enclosed malls that would be built in conjunction with new Richway department stores. One, called Northpark, would be at the intersection of Eastway and Tryon, while the other, dubbed Westpark, was to be constructed on Tyvola Road near I-77. A third Kroger Sav-on was to rise across the street from the new Freedom Mall at Freedom Drive and I-85. By the end of the decade, a fourth store was in the works at Albemarle Road and Farm Pond Lane.
Park-n-shop continued to operate its four Charlotte stores throughout the 1970s with few changes, as did Reid's. Piedmont, an small player to begin with, seems to have just disappeared.