Last Updated on 26 November 2022
The 1990s and Beyond:
The 1990s saw some of the most explosive growth in Charotte's history, as the mid-sized southern city became a large southern-city of more than a half million people — and more than a million additional residents in its metro area.
So what has become of grocery chains in Charlotte since 1990? Quite a lot, actually. Several have disappeared, one big one has both appeared and disappeared, and the landscape has changed dramatically with the arrival of hypermarkets and supercenters.
Growth in Charlotte has always been lopsided, skewing to the south and east. During the 1990s, there was also growth in the far northern reaches of the city and Mecklenburg County, but this development leapfrogged decaying areas closer to downtown. While the back to the city movement was strong in older, closer-in neighborhoods like Dilworth, Elizabeth, and Plaza-Midwood, the first ring of 1950s suburbs was suffering terribly, to the north along North Tryon and The Plaza and increasingly to the east along Independence and Central.
The blight was not helped by the string of abandoned and decaying shopping centers along these streets and along Wilkinson Boulevard and Freedom Drive to the west. The loss of supermarket anchors and the migration of discount stores like Richway (later to become Gold Circle and Target) and Kmart, and the disappearance of Grant's, Clark's, Woolco, and Zayre left holes that were difficult to fill.
Freedom Village survived by attracting thrift stores, Freedom Mall's slow decline finally resulted in a takeover for use as municipal office space. Freeway construction along Independence Boulevard finally killed off the Coliseum and Amity Gardens centers, which had been none too healthy even before the construction. Amity Gardens is scheduled for replacement with a Wal-Mart Supercenter as of 2007; Queensgate on Wilkinson, with its abandoned Woolco, had succumbed to the same fate two years earlier.
The Zayre Shopping Center at Eastway and The Plaza, stripped of its Zayre and its Big Star sat semi-abandoned for years, its primary anchors being an indoor flea market in the former Zayre store, a succession of nightclubs in the old Piece Goods fabric shop, and an adult bookstore in its former theater. Directly in front, the ruins of the old Eastway Plaza, with its abandoned Harris-Teeter sat vacant for a time before being demolished to create a weed patch and a fast food restaurant. The Zayre center has somewhat rebounded in recent years, adding a Rose's, a Dollar Tree, a Save-a-Lot Foods in the old Big Star location, and a variety of retailers catering to the various ethnic groups in the area.
North Tryon's Northpark Mall lost its Bi-Lo and its Target and remains largely vacant, while nearby Tryon Mall, after losing its Woolco and subsequent Winn-Dixie was also vacant for years before being semi-redeveloped as an Asian-themed mall. Charlottetown Mall, on the edge of uptown, also struggled despite a seemingly great location, and was demolished in 2006 to be replaced by an "urbanized" version of a suburban big box center with adjacent offices and apartments.
After more than seventy years, the A&P era ended in Charlotte on 14 November 1996, when the company announced that it would not renew the lease on its last remaining Charlotte store, the 1938 branch at Queens and Providence. The store closed in 1997, and was replaced by an experimental Harris Teeter Express branch, which remains there today.
Interestingly, this antique survived the opening and closing of many newer stores. None of the 1980s Futurestores were successful, and even all of the 1970s units had closed. The last three A&P stores in Charlotte were the Provdence Road branch, the West Trade "centennial" prototype from 1967, and the 1956 Park Road Shopping Center location.
A&P stores in Raleigh closed at about the same time; the chain had abandoned Greensboro and the Triad years before.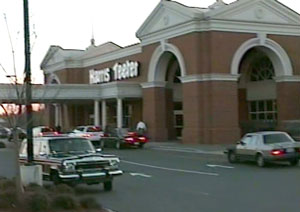 "TajMaTeeter", adjacent to Southpark Mall.
Harris Teeter continued to "upscale" its image and to shutter branches in less prosperous areas. The Freedom Mall store closed in 1992. Providence Square closed in 2002 and East Independence in 2005. The Eastland Mall branch, an original tenant of the now-struggling center, shut its doors in May of 2006, after thirty years in that spot.
The Southpark Mall branch, on the other hand, was relocated across the street and drastically expanded around 1996; locals referred to the giant new store as the "Taj MaTeeter". The smaller and older stores at still-desirable Park Road Shopping Center and Cotswold Mall were expanded as much as possible. Harris Teeter also acquired a 60-year-old A&P location adjacent to Myers Park in 1997 and remodeled it into a Harris Teeter Express experimental store, emphasizing produce and prepared foods. This store was demolished and replaced by a large new unit in 2013.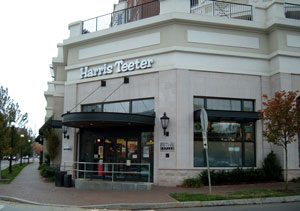 Fourth Ward Harris Teeter branch.
Much to the delight of uptown boosters, Harris Teeter opened an urban location at the base of a high-rise condo development in Fourth Ward in 2004. This new experiment was a part of a trend toward urban locations mirrored by Harris Teeter in its Washington DC area expansion.
In 2013, Harris Teeter was acquired by Kroger but retained its name and independent operations.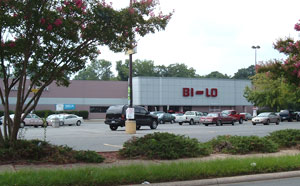 Remodeled Dilwoth Bi-L0 (former Kroger), Park Road.
Apparently feeling somewhat rejuvenated by the loss of its original hodgepodge of older stores, Bi-Lo expanded somewhat during the 1990s. Two or three of the Kroger "greenhouse" stores acquired in 1988 are still operating today, although most have since been closed or relocated.
Bi-Lo has more recently suffered from a lackluster reputation in Charlotte, with older stores in less desirable locations. In 2004-2005, the chain was divested by Ahold, its parent company and merged with remnants of the Bruno's chain in the deep south. Many stores outside the core areas of South Carolina and Charlotte were sold to a wholesaler and renamed Southern Family Markets. The Charlotte stores retained the Bi-Lo name. In 2011, the remainder of the Bi-Lo chain merged with Winn-Dixie, still a thriving regional chain in the Gulf Coast area, although both brands were retained after the merger.
Food Lion continued its penetration of key markets in Charlotte, specifically targeting the eastside along the new Harris Boulevard. Food Lion also picked up one or two of A&P's castoffs, including a South Boulevard branch which spent a short time as a Circuit City between supermarket tenants.
In July 1994, Hannaford Bros. of Maine purchsed the 20-store Wilson's supermarket chain in eastern North Carolina, with an eye toward expanding the chain into urban areas statewide. Late that year, it announced its first Charlotte store, a 60,000 square foot branch across from the park Road Shopping Center. This store opened in December 1995 and is credited with being the final nail in the coffin of A&P's Park Road location.
Initially, the Charlotte stores were to use the Wilson's name, but they ultimately opened under the Hannaford banner. Two other stores were planned for the first wave: one near UNC-Charlotte, and one in a former Brendle's catalog showroom on East Independence Boulevard near Matthews. The latter location was eventually dropped in favor of a suburban Pineville location.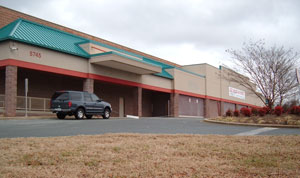 Former Eastland Mall Hannaford location, Central at Albemarle.
In 1996, a second wave of stores was announced: one farther east on Independence by NC Highway 51, one by Eastland Mall on Central Avenue, and one much farther out Albemarle Road. By 1999, eight stores were operating in the Charlotte area, and the chain had a good reputation among its customers, although sales never met expectations.
On 19 August 1999, it was announced that Food Lion's parent company had purchased Hannaford. Antitrust regulations forced the divestiture of the Hannaford operations in the southeast, and the stores closed in June 2000. Hannaford returned to its northeastern roots, albeit under new ownership.
The first store at Park and Woodlawn was demolished and replaced by a lifestyle shopping center. One became a Harris Teeter and another a Hobby Lobby. The store next to the troubled Eastland Mall sat vacant until 2006 when it sprouted signs promising a forthcoming indoor flea market, which never materialized. It remains vacant in 2015, and the adjacent mall has been demolished, awaiting redevelopment by the city.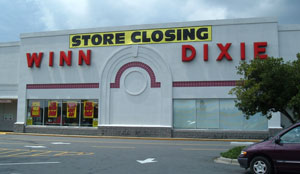 Winn-Dixie, Eastway Drive, shortly before closing in 2005.
Winn-Dixie's story from the 1990s to the present is largely one of bankruptcies and diminishing operations. In 2005, the company abandoned about half its trade area, including the Carolinas, and the seven remaining Charlotte branches closed in July. A few were purchased by Bi-Lo, while several others went to Compare Foods, a retailer geared toward the growing Hispanic market. In 2011, Bi-Lo would merge with Winn-Dixie.


Lowes Foods, Highway 51, Mint Hill.
Wilkseboro-based Lowes Foods had long had a small presence with some low-end stores in northern Mecklenburg County, but the chain began an expansion program around 2004 which brought large, upscale units to the outskirts of town, mostly along the new I-485 beltway. This aggressive run at Harris Teeter's demographic was ultimately not successful and most of the new stores were traded to Harris Teeter in the 2012 for stores closer to Lowe's base of operation.
By the 1990s and 2000s, natural and organic chains Earthfare and The Fresh Market had landed in Charlotte. In 2005, it was announced that upscale organic retailer Whole Foods would enter the Charlotte market by 2007, with stores in the inner-city Elizabeth neighborhood, and possibly one near Southpark Mall. The arrival didn't actually occur until 2012 and the store was located near Southpark rather than in Elizabeth as originally planned.
More competition arrived in the early 2010s with Trader Joe's and Publix stores. Both began with suburban locations but eventually sought locations in Charlotte proper as well.
On 23 April 1989, the Charlotte Observer carried a story about the construction of a new store at Independece Boulevard and Sardis Road North. The 160,000 square foot American Fare, a joint venture between Kmart and deep-south grocer Bruno's, would carry a full assortment of general merchandise and groceries under one roof. Charlotte's was one of the first five of these experimental stores to be built.
Those with longer memories would recall that Clark's Department Stores actually pioneered this concpet in the Charlotte area in the early 1960s. Even older Kmart stores had featured full-line grocery departments, although these were somewhat less integrated into the store than the new American Fare grocery section would be. The Greensboro area had also had Memco, the east cost incarnation of Lucky's Gemco chain of food and general merchandise stores.
However, the new "hypermart" concept was hailed as an exciting and important development in retailing, and it was. This time around, the concept "stuck" as it never really had before. Eventually, the Kmart/Bruno's partnership was dissolved and the American Fare stores were folded into the new Super Kmart chain, several of which were located in the Charlotte area. The original American Fare is now closed and abandoned, a casualty of one of Kmart's numerous bankruptcy reorganizations.
Walmart came to Charlotte in the early 1990s, with stores on Eastway near Central and Providence Road at NC Highway 51, among others. It was developing its own "hypermarts", which became Walmart Supercenters. These stores arrived in Charlotte around 2004 and quickly changed the retail landscape. Walmart also brought its grocery-only Neighborhood Market concept to Charlotte around 2010.
Target has also opened two Super Target locations near Charlotte, although their impact has been debatable. It is believed by many observers that Target's heart isn't in grocery retailing and that the whole experiment is merely a reaction to Walmart.
The turn of the century marked the end of the line for two longtime independents in Charlotte. The final Giant Genie location on Park Road closed in September 1999, while the last Park-n-Shop on South Boulevard shut its doors in 2004. Another Park-n-Shop on North Tryon had already been sold, but the new owner retained the old sign for a time before switching to the Compare Foods banner.
In addition, specialty retailer Reid's abandoned its Providence Road location after more than seventy years for new (and ultimately unsuccessful) quarters in a highrise uptown. As of 2015, Reid's operates one Charlotte store in Myers Park and another in suburban Fort Mill SC.
The most noteworthy independents in recent years, though, have been the assortment of ethnic grocers setting up shop in chain store castoffs around Charlotte. Several Winn-Dixie units are now part of the Compare Foods operation, as is a former Harris Teeter on Independence Boulevard. The Eastway Drive Winn-Dixie is now an International Farmers Market, while the Tryon Mall store, once the largest in the chain, is now an Asian market. The old Darby Acres A&P on Central is now Sav-Way, which specializes in Hispanic and Asian products.