Last Updated on 26 November 2022
The 1980s:
The 1980s were a time of intense change for grocery retailers in Charlotte and nationwide. The Charlotte suburbs were booming, but a back to the city movement was also brewing in such communities as Fourth Ward and Dilworth. Charlotte's population had swelled to 341,000 by 1980, and the metropolitan population was approaching a million.

In 1980, Charlotte's chain grocers had the following operations:
Harris Teeter (20 stores)
Winn-Dixie (10)
A&P (9)
Food Town (7)
Bi-Lo (6)
Big Star (5)
Reid's (4)
Kroger (3)
Park-n-Shop (3)
3 Guys (3)
Giant Genie (2)
In 1985, the count was as follows:
Harris Teeter (16)
Winn-Dixie (12)
Food Lion (11)
Kroger (7)
A&P (7)
Bi-Lo (5)
Wayne's (4)
Park-n-Shop (3)
3 Guys (3)
Reid's (2)
Giant Genie (2)
The decline of the Great Atlantic and Pacific Tea Company continued as the 1980s began, although the chain did not completely abandon Charlotte as it had done in other Carolinas markets. In the last half of the 1970s, ten of twenty Charlotte A&P stores closed, and two more were gone by 1985: the 1975 store on Albemarle Road and the 1960 "centennial" store on Freedom Drive.


A&P Futurestore, now Big Lots. Matthews Township Festival
A&P did not introduce its Family Mart combination store format in Charlotte as it did in the Triad, Greenville, and Columbia markets. In 1985, however, plans were announced for new A&P Futurestore locations on Newell-Hickory Grove Road (now Harris Boulevard) and at Matthews Township Festival on East Independence Boulevard. A&P had introduced the Futurestore in New Jersey in 1984 as an upscale prototype, featuring natural and organic foods in a rather stark black and white design scheme with a glass-enclosed façade. A third Futurestore may have been located at Tower Place Festival in Pineville as well.
A&P also rebranded several of its remaining stores, including both Central Avenue locations, under the Sav-a-Center name during the 1980s. This was A&P's new "value" brand, used extensively all over the south. It is still used in the New Orleans region, A&P's only remaining southern outpost.
Alas, the new brands would not be enough to save A&P. By 1992, only three locations remained in Charlotte: the 55-year-old Providence Road location, the 36-year-old Park Road Shopping Center branch, and the 25-year-old West Trade Street store. None of the Futurestores survived more than five or six years; the Hickory Grove store ultimately became a Food Lion and the Matthews branch a Big Lots.
Harris Teeter cemented its dominance over certain segements of the Charlotte market during the 1980s by positioning itself as an upscale alternative, stressing fresh produce and meats in the face of low-end competition from Food Town. In addition, the chain extended its reach into other parts of North Carolina and Virginia in 1984 through a merger with Greensboro-based Food World.
The 1980s marked the beginning of Harris Teeter's retreat from the northern and western sections of the city. The Freedom Village, Eastway Plaza, Derita, and North Graham Street branches closed early in the decade, while the Hampshire Hills location closed in 1989.
The closings at Freedom Village, Eastway Plaza, and Hampshire Hills were particularly devastating to the centers they had anchored. Eastway Plaza was finally demolished around 1992, leaving the semi-abandoned Zayre Plaza behind it to anchor the busy intersection. Freedom Village, now stripped of both its supermarket anchors, survived as a host for thrift stores and other low-budget enterprises. Hampshire Hills is still standing, but just barely.
Harris Teeter's growth was largely limited to to the south and east, with several new stores opening in suburban Pineville and Matthews.
In 1984, Harris Teeter purchased the three remaining Big Star locations in Charlotte. This gave the chain a presence at Outlet Square (formerly Charlottetown Mall), Southpark Mall, and the Park Road Shopping Center, and set the stage for a bigger purchase in 1988, when Harris Teeter acquired the remainder of the Carolinas' Big Star stores.
In 1988, the Charlottetown Mall branch (a former Colonial and later Big Star acquired in 1984) and the 36-year-old Sedgefield Shopping Center location on South Boulevard were closed and replaced by a new and somewhat more urban-style store on East Boulevard in the rapidly redeveloping (and gentrifying) Dilworth area. The 1950 location on Central Avenue, in the also-gentrifying Plaza-Midwood area, was remodeled at about the same time.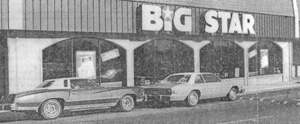 Big Star, Park Road Shopping Center, Charlotte Observer, 4 January 1984
Things got progressively worse for Big Star in the 1980s. At the start of the decade, the chain was down to five locations in Charlotte. Two of these, East Independence Boulevard and North Graham Street were closed in 1982. The remainder of the Charlotte stores – Outlet Square, Southpark Mall, and Park Road Shopping Center – were sold to Harris Teeter in 1984.
While the Charlotte locations were in worse shape than some, Big Star and its parent company, Grand Union, had been in serious trouble ever since their 1978 merger. The company was trying to sell its Washington DC stores in 1984 as well, and in 1988, all the Carolinas operations were sold to Harris-Teeter.
Food Lion began the 1980s still using the name Food Town. Planned expansion into two areas with pre-existing Food Town chains forced a name change in 1983. The new name was chosen for two reasons: (1) Food Lion's new Belgian corporate parent, Delhaize used a lion as its symbol, and (2) the new name required changing only two letters on store signage, cost-cutting move which was well-publicized in TV commercials at the time.
Food Lion was the grocery phenomenon of the 1980s in the Carolinas, expanding rapidly and assuming market dominance in many areas seemingly overnight. Charlotte was no exception.


Albert Dubay, 3 Guys, North Tryon Street, Charlotte Observer, 23 December 1979
Charlotte added a new player in 1980 with the opening of 3 Guys stores, owned by Welsh businessman Albert Gubay, who also operated a successful chain in New Zealand. Gubay caused controversy from the outset by going after Food Town's claims of "lowest food prices in North Carolina". Food Lion CEO Ralph Ketner suggested at one point that Gubay's was merely a front for the struggling Grand Union, an attempt to open non-union replacements for its sagging Big Star chain.
Gubay's first North Carolina store opened at 5420 North Tryon in January 1980. Additional stores opened on Albemarle Road at Farm Pond Lane (February 1980), Wendover Road (April 1980), and Tyvola Road, adjacent to Westpark Mall (May 1980). Gubay planned 40-50 stores on the region, each to anchor a shopping center which would theoretically provide profits which would help keep grocery prices low.
The company entered bankruptcy late in 1985, and the three remaining Charlotte stores closed in early 1986, when they became Charlotte's first Big Lots stores. Ironically, the Wendover Road branch eventually became a Food Lion.


Kroger Sav-on "greenhouse" prototype, Columbia SC
Kroger, still a relative newcomer to Charlotte at the dawn of the 1980s, followed its original locations with a new wave of construction in 1982. A controversial location opened on Park Road in historic Dilworth. In addition, new stores opened in suburban Matthews, at the new Westpark Mall on Tyvola Road, and on Wendover Road near one of the first 3 Guys locations. All of these were of the sleek "greenhouse" prototype.


Opposition to Dilworth Kroger store, 1982, thanks to Rick Bumgarner
Bi-Lo was operating a hodgepodge of locations in Charlotte in 1980, and apparently not doing too well, as its operation consisted of the same hodgepodge five years later.
Things got a little strange in 1988.
On 21 April, Kroger announced that it had purchased Bi-Lo's five Charlotte locations. These stores were a decidedly low-end collection, two of them former Kmart Foods locations from the 1960s. Most were also in less desirable neighborhoods that didn't mesh well with Kroger's "upscale" image. Nevertheless, Kroger continued to operate them under the Kroger banner, rather than the Kroger Sav-on nameplate used on the stores it had built on its own.
On 1 August 1988, a little more than three months after it pulled out, Bi-Lo announced that it would re-enter the Charlotte market with a new 51,000 square foot store on East Independence Boulevard.
On 27 September 1988, Kroger announced that it would exit the Charlotte market and place its twelve Mecklenburg County stores on the market as a result of a hostile takeover attempt. Ingle's and Bruno's were suggested as possible buyers for the chain's Charlotte operations.
On 27 October 1988, Bi-Lo announced that it would purchase Kroger's Charlotte operations. Apparently included in the deal were the five stores Bi-Lo had sold to Kroger six months earlier. Bi-Lo noted, however, that these stores would probably not reopen as Bi-Lo units.
If this all sounds a bit fishy to you, you're not alone.
Winn-Dixie maintained a relatively respectable Charlotte operation through most of the 1980s, despite increasing pressure from Food Lion. The company was going through something of an identity crisis which would last for the next two decades, unsure of whether it was a discounter or a more upscale player. Some unfortunate mistakes were made at both ends of the spectrum.
Perhaps the most expensive of these mistakes was the opening of one of the first Winn-Dixie Marketplace stores in an old Woolco at Tryon Mall. Upon opening, the 60,000 square foot store was the largest in the chain, and many looked on it as part of the rebirth of a dying mall in a troubled neighborhood. It was not to be; the store closed within five years, and the mall sat nearly abandoned for a decade after that. Somehow, though, the adjacent Park-n-Shop managed to thrive during those years.
Despite a number of new stores constructed late in the 1980s, Winn-Dixie had become a minor player in Charlotte and most of North Carolina by the 1990s.