Last Updated on 26 November 2022
The 1950s:
The 1950s are viewed by many as the golden age of the American supermarket. The shortages of Word War II were over, the nation was prosperous, and the suburbs were growing. Charlotte's population stood at 134,000 at the dawn of the 1950s.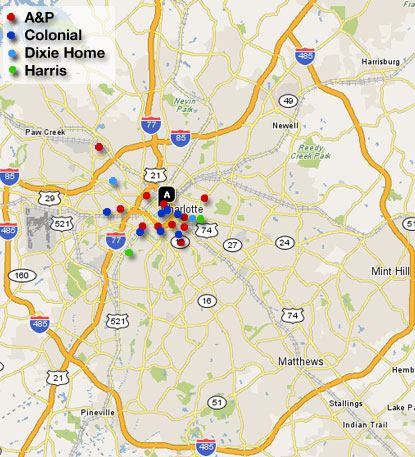 Charlotte chain grocers, 1955.
In 1950, Charlotte's chain grocers broke down as follows:
A&P (10 stores)
Colonial (8)
Reid's (3)
Smith's (3)
Harris (2)
Dixie Home (1)
Economy Grocery Co (1)
Park-n-Shop (1)
By 1955, there had been surprisingly few changes to the lineup:
A&P (11 stores)
Colonial (7)
Piedmont (3)
Funderburk's (3)
Dixie Home (2)
Harris (2)
Reid's (2)
Smith's (2)
Economy Grocery Co (1)
Park-n-Shop (1)
The early years of the decade saw very little growth in number of stores, either for A&P or for any other chain. The late 1950s, however, was a period of tremendous change. Charlotte was expanding beyond its tight inner ring of suburbs along new thoroughfares, particularly the new Independence Boulevard (US 74) to the east and South Boulevard (US 21) to the south.
Lining these new roads were new shopping centers, much larger than the streetcar strips of the 1920s and 1930s and the small centers of the 1940s. Many of these new centers, like 1956's Park Road Shopping Center, offered a supermarket at each end, and an almost "downtown-like" assortment of stores between them.
Some of the major centers and their supermarket anchors from the middle to late 1950s included:
1952: Sedgefield Shopping Center, South Boulevard (Harris).
1955: Chantilly Shopping Center, East Independence Boulevard (Colonial).
1956: Hutchinson Shopping Center, North Graham Street (Harris and Colonial).
1956: Park Road Shopping Center, Park and Woodlawn Roads (A&P and Colonial).
1958: Central Square, Central and Pecan Avenues (A&P).
1958-1961: Amity Gardens, East Independence Boulevard (Winn-Dixie).
1959: Charlottetown Mall, Kings Drive (Colonial).
1959: Colonial Village, Scaleybark Road and South Boulevard (Winn-Dixie).
By 1955, A&P was operating essentially the same stores it had a decade earlier, although some of them had expanded. Its oldest store, at 3444 Rozzelles Ferry Road, had opened in the early 1930s, while its newest, at 801 North Tryon, had opened in 1945. As would happen in many other cities, A&P continued to operate old, outdated stores in streetcar strips (such as the East Morehead and East Seventh Street branches) long after other chains had abandoned these locations. Some of these stores were approaching forty years old when they finally closed during A&P's first meltdown in the early 1970s.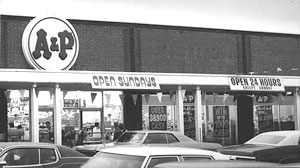 A&P, Park Road Shopping Center.
However, A&P did open some new suburban locations late in the 1950s, including stores at the Park Road Shopping Center in 1956, and in a new infill center at Central Avenue and Pecan in 1958. The latter replaced one of the original self-service stores from the late 1930s. To A&P's credit, it was one of the few large chains which continued to serve inner-city areas increasingly populated by minorities.
Colonial's stock was somewhat newer in 1950, with half of its stores dating only from the late 1940s. In fact, only one new branch opened in the first half of the decade, at 618 North College Street downtown, a mere four blocks from an existing branch which also stayed open. This definitely bucked the trend of decentralization in store locations, but was a pattern Colonial would also follow by operating two stores in downtown Greensboro during the 1950s.


Colonial branch in Atlanta which was identical to the East Independence store.
Colonial also suburbanized in the late 1950s, adding stores in the Park Road and Hutchinson Shopping Centers in 1956, in the new enclosed Charlottetown Mall in 1959, and at 2100 East Independence Boulevard on the edge of the Chantilly neighborhood, a store which closed after only a few years.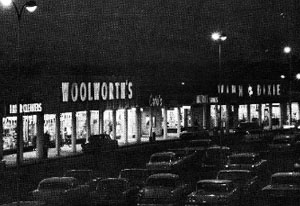 Winn-Dixie, Amity Gardens Shopping Center. Photo courtesy Pat Richardson.
Dixie Home finally closed the last of its original stores downtown and opened two brand new locations, one at 3302 Tuckaseegee Road and one at the intersection of Central Avenue and The Plaza.
In 1955, Dixie Home's 117 Carolinas stores were acquired by Winn & Lovett Stores of Florida. The merged company assumed the name Winn-Dixie, and began an aggressive expansion campaign in Charlotte and across the region. In the final years of the 1950s, two additional stores had opened, one in the Amity Gardens Shopping Center on Independence Boulevard (1958) and one at Colonial Square at South Boulevard and Scaleybark Road (1959). Many more would follow in the early 1960s.
The new Harris store on Central Avenue, opened in 1950, was a big success. The store on North Tryon apparently wasn't, as it had closed by 1955. However, a location at the new Sedgefield Shopping Center on South Boulevard was much more successful following its 1952 opening.
More new stores followed. The Huitchinson Shopping Center branch on North Graham Street opened in 1956. A store at the corner of Randolph and Sharon-Amity Roads premiered in 1958, the anchor for the future Cotswold Shopping Center, which would open in 1963. There was also a short-lived store on Rozzelles Ferry Road.
In 1958, Harris combined its distribution operations with those of Teeter's Food Marts of Mooresville. The two companies would work together much more closely as the 1960s began.
Ecomomy Grocery Company had been a one-store operation for years, and was really a non-entity by this time. Reid's was largely a niche player, although a new store did open in an older building on West Boulevard in the late 1950s, while the 20-year-old South Boulevard unit closed. Smith's also was a small player, operating mostly superettes. Piedmont Stores was a new addition in the 1950s, operating mostly smaller stores in minority neighborhoods. And Park-n-Shop remained a one-store company as well, although that was about to change.