Last Updated on 26 November 2022
The 1960s:
The 1960s were the era of the large regional shopping center and of some dramatic changes in the way supermarkets operated. Charlotte was booming with a population of 201,600, and was a leader among "new south" cities like Atlanta and Nashvile.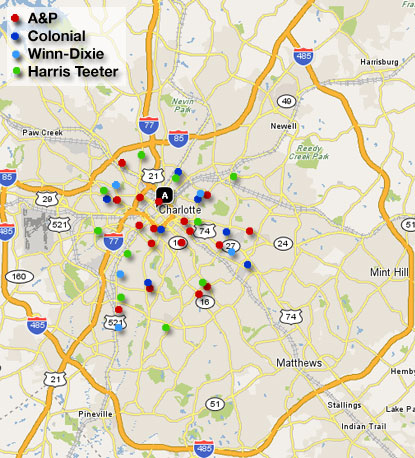 Charlotte chain grocers, 1965.
In 1960, the following chain stores operated in Charlotte:
A&P (14 stores)
Colonial (11)
Harris (6)
Winn-Dixie (4)
Funderburk's (3)
Piedmont (3)
Reid's (3)
Smith's (2)
Park-n-Shop (1)
By 1965, this was the breakdown:
A&P (17 stores)
Harris Teeter (11)
Colonial (7)
Winn-Dixie (5)
Piedmont (4)
Reid's (3)
Park-n-Shop (2)
Smith's (2)
Colony Food Center (1)
Funderburk's (1)
A few months before 1959 became 1960, the Charlottetown Mall opened at the intersection of Independence Boulevard and Kings Drive, just southeast of downtown Charlotte. The first enclosed mall in the Carolinas, it included two branch department stores, an Eckerd Drug Store, an S&W Cafeteria, and a brand new Colonial supermarket.
While the 1950s had seen significant shopping center development, the centers of the 1960s were even larger and more numerous. By the latter half of the decade, big box retailers like Kmart and Zayre were developing their own centers as well.
Some major openings during the 1960s included:
1960: Eastway Shopping Center, Eastway Drive at Central Avenue (Colonial and Winn-Dixie)
1961-1963: Kmart Plaza, South Boulevard (A&P and Kmart)
1962: Eastway Plaza, Eastway Drive at The Plaza (Harris Teeter)
1962: Freedom Village Center, Freedom Drive (Harris and Colonial)
1963: Cotswold Shopping Center, Randolph and Sharon-Amity Roads (Harris and A&P)
1964: Darby Acres, Central Avenue (A&P)
1964: Starmount, South Boulevard (Winn-Dixie)
1965: Coliseum Shopping Center: Independence Boulevard at Eastway Drive (Park-n-Shop and Kmart)
1965: Westerly Heights Shopping Center: Wilkinson Boulevard (A&P)
1966: Kmart Center, Freedom Drive
1967: Tryon Mall, Tryon Street at Sugar Creek Road (A&P)
1968: Zayre Center, Eastway Drive at The Plaza (Big Star)
1968: Kmart Center, Tryon Street near Sugar Creek Road
1968: Queensgate Center: Wilkinson Boulevard at Ashley Road (Winn-Dixie)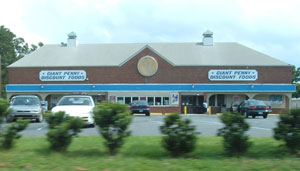 Former "Centennial" A&P, The Plaza.
The Great Atlantic and Pacific Tea Company greatly increased its presence in Charlotte during the 1960s. In 1960, four of the chains new "centennial" prototype stores, with red brick and cupola opened. One was located on Freedom Drive, and replaced a 1930s-era store on West Morehead Street. One on West Trade Street replaced a 1940s-era branch three blocks east and a 1930s-era store on Rozzelles Ferry Road. Other centennial stores opened on The Plaza and Independence Boulevard the same year, though the location on The Plaza may have been a remodeling of an earlier store on the site.
Other pre-1965 openings included a new branch on South Boulevard in what would several years later become the Kmart Shopping Center (1961), a 16,000 square foot unit at the new Cotswold Mall (1963), and a new location adjacent to a Kress store in the Darby Acres center on Central Avenue (1964).
Later in the decade, new stores also opened in the Westerly Heights center Wilkinson Boulevard (1965), on Park Road near Kenilworth (1965), on Sugar Creek Road adjacent to Tryon Mall (1967), and on Hovis Road.
A few stores were also lost to road construction and replaced during the 1960s. The 1960 store on West Trade moved four blocks west due to I-77 construction, while the 1960 store on Independence apparently closed in anticipation of a new Eastway Drive interchange late in the decade, and relocated a few miles east.
Interestingly, A&P still maintained several of its older stores throughout the 1960s, including the early 1930s branch on East Morehead Street, the 1937 store on East Seventh Street, the 1938 "self-service" store on Park Avenue, and the 1945 store downtown on Tryon Street.
On 1 February 1960, Harris Super Markets of Charlotte merged with Teeter's Food Marts of Mooresville to form Harris Teeter Super Markets Inc., opening the first store under the new name in Kannapolis. By the time of the merger, Harris Teeter was operating six stores in Charlotte. By 1965, that count was up to ten, and by the end of the decade it had doubled to twelve.
Noteworthy new branches from the 1960s included stores in the Eastway Plaza Shopping Center (1961), Seneca Shopping Center on South Boulevard (1961), Freedom Village Shopping Center (1962), and Sharon Shopping Center (1962). Also opened were stores on West Boulevard (since demolished), Albemarle Road (1965), and North Graham Street (1969).
In addition to the excitement of the new Charlottetown Mall store, the early 1960s would see the closure of numerous Colonial stores in Charlotte. The Central Avenue (open 1941), Providence Road (open 1947) , South Boulevard (open late 1940s), and Independence Boulevard (open 1955) stores were shuttered. Both downtown stores on College Street closed. The Wilkinson Boulevard branch, also dating from the late 1940s) was demolished for the construction of a new Howard Johnson Motor Lodge and restaurant.
By 1965, there were only seven Colonial stores left in the city, although most of them were less than ten years old. New stores were at Eastway Center (1960), Freedom Village (1962), Independence and Sharon-Amity (1963), and The Plaza (early 1960s).


Colonial Store rebranded as Big Star, Charlottetown Mall.
Colonial's operations were showing signs of age, and in 1969, the chain became one of the first to introduce a discount concept. For these new no frills stores — which offered no trading stamps, and little in the way of promotions or décor — the company resurrected the Big Star name.
The first Colonial store to be rebranded was the Eastway Shopping Center branch. The North Graham Street store was also rebranded immediately. A store in the new Zayre Shopping Center at Eastway and The Plaza (directly behind an existing center with Harris Teeter as its anchor) may have been the first in Charlotte to open under the Big Star name; several of these centers anchored by Zayre and Big Star opened in the Carolinas around 1970.
Winn-Dixie opened several new locations in Charlotte in the 1960s, including stores at the Starmount (1964) and Queensgate (1968) Shopping Centers. In addition, Winn-Dixie replaced the old Dixie Home location at Central and The Plaza with a new branch farther out The Plaza near Matheson Avenue (1960).
Winn-Dixie also joined Colonial in the Eastway Shopping Center sometime in the late 1960s. This store would operate for nearly forty years and would be the oldest Winn-Dixie in town when the chain exited the Charlotte market in 2005.
Charlotte's first "big box" discount store, Clark's, opened in 1958 in the Amity Gardens Shopping Center. This was one of the first "superstores", featuring general merchandise and groceries in a 100,000 square foot building. Clark's also opened stores at the same time in Greensboro and Winston-Salem NC, among other places.
About 1964, Charlotte's first Kmart made its debut on South Boulevard. Kmart stores of the time featured adjoining food stores run by an independent operator under the Kmart Foods name. Additional stores followed on Independence Boulevard (1965), Freedom Drive (1966), and North Tryon Street (1968).
Woolco arrived in 1968. F.W. Woolworth's attempt at a large discount chain did not include food departments like Kmart, but both chains were heavily involved in shopping center development. Woolco, favoring enclosed malls, opened Tyvola Mall, which had a Big Star supermarket attached, and Tryon Mall, with an A&P. Woolco also opened in the Queensgate Shopping Center, which featured a Winn-Dixie supermarket.
Zayre, the "fabulous department store" also made its debut in 1968. For its first location, it chose a large site directly behind the decade-old Eastway Plaza center at Eastway and The Plaza. As did several of the first Zayre centers in North Carolina, this one opened with a Revco drug store, a Piece Goods fabric store, a Trans-Lux Inflight Theatre and a Big Star supermarket.
Zayre opened additional stores on South Boulevard (1969), Independence Boulevard (1970), and Freedom Drive (1972). The Freedom Drive branch also had a Big Star, while the Independence branch had a Harris Teeter. South Boulevard was next to a preexisting Park-n-Shop.


Park-n-Shop, Wiliknson Boulevard.
Park-n-Shop, having relocated its original Wilkinson Boulevard location into a futuristic new building down the street in 1959 following a fire at the old location, opened a similar store at the intersection of North Tryon and Sugar Creek in 1962. These were followed around 1965 by locations in the new Coliseum Center on Independence Boulevard, and near the intersection of South Boulevard and Woodlawn Road.
Reid's, Smith's, and Piedmont continued to be small niche players, as did Funderburk's. The Funderburk's store on Selwyn Avenue, however, became the Colony Food Center in about 1965. This was the genesis of the Giant Genie chain which would become more well-known in the 1970s.