A&P bankruptcy filing indicates likely demise.
I'm testing a new way of generating the location lists on the site using Google Sheets. The biggest benefits are that this approach should be more tablet- and mobile-friendly, and also will make it easier for me to have the most updated data I have on the site without having to do manual updates. It will also allow users to download the spreadsheets or add them to your own Google Drive.
I'm also in the process of updating the rest of the location lists so they generate automatic links to a current site view in Google Maps.
I started with San Francisco as a test. Let me know what you think in the comments. Thanks!
Lest we make the mistake of thinking that the controversy over Thanksgiving opening hours is a new one, may I offer the following ads from the 26 November 1964 Greensboro Record. Apparently the issue was far from settled even fifty years ago. Anyway, happy Thanksgiving to the Americans who are celebrating it this week.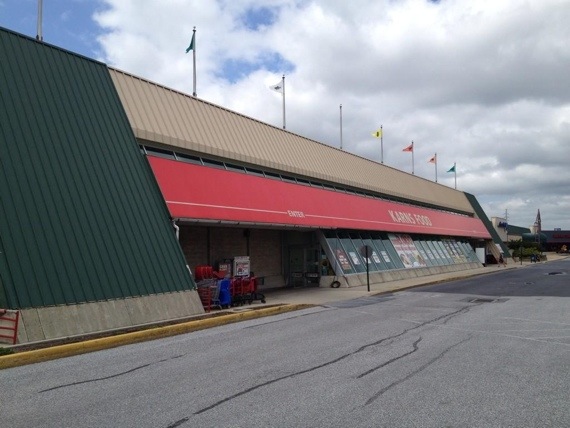 Groceteria is on a road trip through southern Pennsylvania, Philadelphia, New Jersey, and Washington DC. And I'm live tweeting pictures from the road as I run across interesting stores. Follow me on Twitter if you want to see them pretty much as I do. Or wait for the full photo library to be posted a little while after I get home.
Need that extra Groceteria fix? Follow @GroceteriaWeb on Twitter. Come along on road trips and see random articles and items of interest. Interact.
It will be fun.
Come on. You know you want to. If you're scared, you can slwasy follow the feed in the right column on the front page of the site as well. But that won't be as much fun…